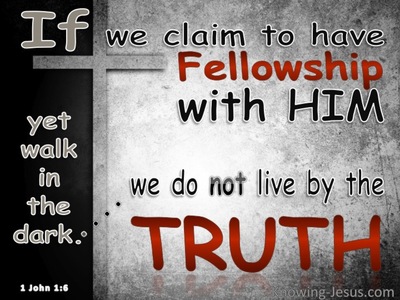 "Fellowship with the Lord"
Therefore I speak to them in parables, because they seeing see not, and hearing, they hear not, neither do they understand.
Matthew 13:13
The disciples asked Jesus why He spoke to the religious leaders in parables in verse 10 of this chapter. Jesus answered their question in verse 13. There is nothing more tragic in a person's life than to be spiritually blind and spiritually dead. These conditions cause a man to not be able to understand or comprehend the things of God. And it is even more tragic when those who have this condition are the religious leaders.
Jesus spoke in parables to help us to grasp His righteous principles. Some refused to see or listen to the Lord Jesus Christ. Hard, calloused hearts of unbelief are the root cause of these conditions. You see my friends, you and I can NEVER grasp the things of God until we accept His will for our lives.
Often God is showing and telling us His will, and in our rebellion, we refuse to either see or listen. This morning I asked God to help me to see Him and to hear Him clearly. For I understand that in my life, when His will is accomplished, I will be able to fellowship with Him, and experience the abundant life that He desires for us to experience. How about you?
******************************************************************
P.S. (from bruce) When there is no other place to turn…turn to God !!  If you're not a "born again" Christian, is the Holy Spirit urging you to open this link ??  Here is the truth for this most important days writing, about how God's grace is received to become a Christian in God's eyes; through understanding and obeying the Gospel of our Lord Jesus Christ…   https://godsmanforever.com/2016/12/19/the-gospel-of-our-lord-jesus-christ-12182016-written-by-bruce-r-mills/
To my brothers and sisters in Christ, please feel free to share this message of the cross with those in need…
Picture credit: https://www.google.com/search?rlz=1C1SQJL_enUS832US832&biw=1291&bih=922&tbm=isch&sxsrf=ACYBGNRs6XJyl6aqWrPgtrBYnoIjrZv-QA%3A1573907092868&sa=1&ei=lOrPXbPGNOSQggfHjZXQDQ&q=image+fellowship+with+God+bible&oq=image+fellowship+with+God+bible&gs_l=img.3…44295.58243..58874…2.0..0.79.1271.19……0….1..gws-wiz-img…….35i39.gY7JhmapIcg&ved=0ahUKEwiz4Lfp3O7lAhVkiOAKHcdGBdoQ4dUDCAc&uact=5#imgrc=s0InazZAiHwrFM: