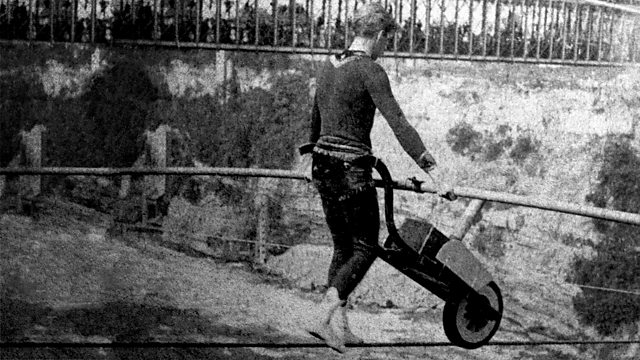 Merriam-Webster defines faith as allegiance to duty or a person, sincerity of intentions, belief, trust in, and loyalty to God, trust in the traditional doctrines of a religion, and firm belief in something for which there is no proof. But faith in the Bible is different – deeper, stronger, longer-lasting. The Greek word for faith is pistis and it means belief or trust with an implication that actions based on that trust may follow. There's an old story about a tightrope walker who strung his rope across a tall and dangerous precipice then asked the crowd, "Who here believes I can walk across this rope and back without falling?" Many applauded their approval and so he stepped up and made the trip across and back with ease. Then he set a wheelbarrow on the rope and asked, "Who here believes I can push this wheelbarrow across this rope and back without dropping it or falling off?" The crowd, encouraged by his previous success, agreed that he could. And so he pushed the wheelbarrow across and back without a hitch. When he returned, the crowd whistled and clapped with delight. "Now," the man said, "who's willing to get in the wheelbarrow?" That's what the Bible means by faith.
Christmas is many stories of faith. The shepherds had faith and went to see the Baby in the manger. Joseph had faith and took Mary to be his wife despite the scandalous circumstances. Mary had faith and humbly surrendered to the will of God even though it put her in a very difficult situation. The Magi had faith and traveled for two years to worship a King who didn't rule their country. Elizabeth restored Mary's faith by reminding her that there is a great blessing in believing God. Simeon and Anna had faith in God's promise to redeem Israel, and their faith was rewarded in the face of the infant Son of God.
Faith is not just sitting around thinking faithy thoughts. Real faith, sustaining faith is faith that moves you. It looks at the impossibility of the situation and steps forward anyway. It submits to God's will even when it's hard. It makes the difficult journey of life an adventure and it never loses sight of the promises of El Emunah, the Faithful God.
Beloved, do you have real faith?
*********************************************************************************
P.S. (from bruce) When there is no other place to turn…turn to God !!  If you're not a "born again" Christian, is the Holy Spirit urging you to open this link ??  Here is the truth for this most important days writing, about how God's grace is received to become a Christian in God's eyes; through understanding and obeying the Gospel of our Lord Jesus Christ…   https://godsmanforever.com/
To my brothers and sisters in Christ, please feel free to share this message of the cross with those in need…
Picture credit:  https://www.google.com/search?rlz=1C1SQJL_enUS832US832&sxsrf=ACYBGNQI1YnO6jkWTN5ayls19JSQY-YbMQ:1576845512720&q=image+real+faith+in+God&tbm=isch&source=univ&sa=X&ved=2ahUKEwiq1pqln8TmAhVkS98KHStSC1wQsAR6BAgJEAE&biw=1272&bih=922#imgrc=kCBCVEbujG4Z9M