"Our Daily Bread"     http://odb.org/
The Daily Devotions of Greg Laurie    http://www.harvest.org/devotional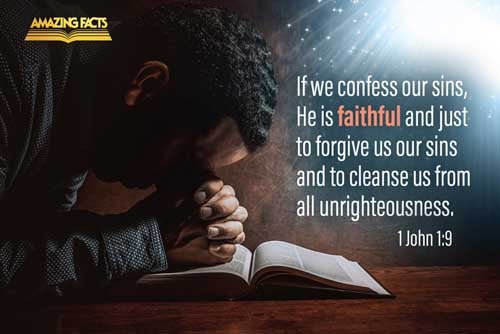 Written by Beth Andrews for "Deeper Roots"  @  https://dbethandrews.wordpress.com
Original post @  https://dbethandrews.wordpress.com/2021/05/19/are-you-sorry-for-your-sin/
 Are you sorry for your sin?

The Apostle Paul had such a heart of love for his fellow believers. He prayed for them continually, asking for God's blessing, favor, light, peace, Joy, hope, wisdom, and power. He encouraged them in the face of great opposition and persecution, even from his own prison cell. But one thing Paul did not do was coddle them in their sin. He called out their squabbling, arrogance, greed, gluttony (ouch), selfishness, and especially their sexual immorality. He would have none of it among God's people. He was quick to chastise the Corinthian church for tolerating – and even applauding – gross sexual sin among the believers (1 Cor. 5).  He would be appalled at the church today. He later wrote, "I see that my letter hurt you, but only for a little while – yet now I am happy, not because you were made sorry, but because your sorrow led you to repentance" (2 Cor. 7:8-9).
Paul boldly pointed out their sin in all its ugliness and they were deeply convicted and greatly sorrowed. Have you ever been truly sorry for your sin? Have you ever let the Holy Spirit convict you to the point of grieving for your offense before God? Or have you let the world soothe you with mushy half-truths about love and tolerance? Let me give this to you straight – God loves you, but He does not tolerate sin. He convicts and chastens His children (Hebrews 12:6). That's how you know He is your Father. The point of this chastening is not just to make you feel bad about yourself (which is how the world spins it). God calls out our sin so that we will turn away from it and turn back to Him. "Godly sorry brings repentance that leads to salvation and leaves regret no" (1 Cor. 7:10).
Let me get very personal. Is there a cherished sin in your life – one you just don't want to let go of? It may be something "big" like stealing from your job or sexual sin, or it may be something "small" like bitterness or – gulp – gluttony. Take off your worldly glasses and listen to what the Spirit says about it. Beloved, the tug on your heart is godly sorrow. It's your Father calling you to repentance. Calling you to wholeness. Calling you to Joy.
*******************************************************************************
P.S. (from bruce) When there is no other place to turn…turn to God !!  If you're not a "born again" Christian, is the Holy Spirit urging you to open this link ??  Here is the truth about how God's grace is received to become a Christian in God's eyes; through understanding and obeying the gospel of our Lord Jesus Christ…   https://godsmanforever.com
To my brothers and sisters in Christ, please feel free to share this message of the cross with those in need…
Picture credit: https://www.google.com/search?sxsrf=ALeKk018EfA_ToV1gs22mJS3dxGHqORfJw:1621474195914&source=univ&tbm=isch&q=image+1+John+1:9+Bible&sa=X&ved=2ahUKEwj2rtaLjtfwAhWSMlkFHSbWBuAQjJkEegQIDRAB&biw=925&bih=553#imgrc=mcC-qgGmpOKDLM