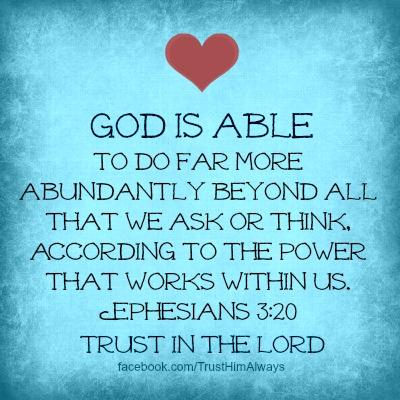 Jesus Makes Us Capable
2 Corinthians 12:9-10 NIV, "9 But he said to me, "My grace is sufficient for you, for my power is made perfect in weakness. Therefore I will boast all the more gladly about my weaknesses, so that Christ's power may rest on me. 10 That is why, for Christ's sake, I delight in weaknesses, in insults, in hardships,in persecutions,in difficulties. For when I am weak, then I am strong."
It is human nature for us to want to be self-sufficient and in control of our lives. We think we can take care of ourselves by ourselves. But the truth is that in our own strength, we are not capable. We need God's strength to sustain us because we fall short in many ways. Even when we go through seasons that seem like we "have it all together," one thing can suddenly happen that reminds us we need the Lord. Life can change quickly.
Paul said that He boasted about his weaknesses, because through them, He experienced the power of Jesus Christ. We often struggle to make things happen in our own strength, but when we give our life over to Jesus, day by day, one situation at a time, we will find that through His power, we become strong and capable. Even when we experience feelings of fear or uncertainty, we can find the courage to keep progressing step by step.
Photo by: Cottonbro of Russia 
Do you boast about your weaknesses knowing that through them Jesus can still use you to accomplish His will? The closer I have gotten to Jesus, the more I am understanding what Paul meant. There is a freedom that comes when we begin to understand that in Christ, we don't have to be perfect. When we humble ourselves before the Lord, He lifts us up in due time (1 Peter 5:6). Apart from Him, we can do nothing; even overcoming our weaknesses requires His help. Trust Jesus to sustain you. He loves you, even when your performance is not perfect.
****************************************************************************
P.S. (from bruce) When there is no other place to turn…turn to God !!  If you're not a "born again" Christian, is the Holy Spirit urging you to open this link ??  Here is the truth about how God's grace is received to become a Christian in God's eyes; through understanding and obeying the gospel of our Lord Jesus Christ…   https://godsmanforever.com
To my brothers and sisters in Christ, please feel free to share this message of the cross with those in need…
Picture credit: https://www.google.com/search?sxsrf=AOaemvIAIRg0zXOYTTE-1x7moeFse6a9jw:1630323457493&source=univ&tbm=isch&q=image+eph+3:20&sa=X&ved=2ahUKEwjP27WU1NjyAhVNG80KHQ14AVoQjJkEegQIBxAC&biw=1365&bih=927#imgrc=0FmbfO1G8vZVlM