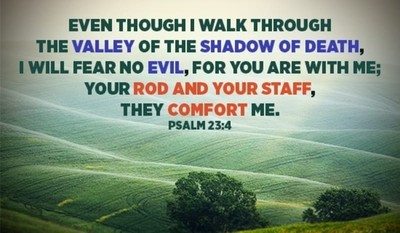 The Valley
This morning I was thinking about something I needed to do, something I didn't really want to do because it often raised up a temptation I've been trying to put down for a long time. I prayed for help and a verse came to mind. It comes out of Psalm 23 – The Shepherd's Psalm. Verse 4 says "Even though I walk through the valley of the shadow of death, I will fear no evil, for you are with me; your rod and your staff, they comfort me." Now, what does that have to do with temptation?
This valley is not a pastoral scene of gentle slopes between the hills but a steep, narrow gorge where the sun never reaches. The valley most attributed to this passage was the Valley of Hinnom outside the walls of Jerusalem. It was a horrible place of death as bodies of criminals and animals and the town's rubbish was thrown there and fires burned continually to consume them. The "shadow of death" is a place of extreme danger and thick darkness – an apt description of the valley. It was also a place where kings and priest sent their own children to be burned alive to appease the gods – a horrible sin.
Death and sin go hand in hand. From the very beginning, God told the first humans that when they sin (disobey God) they "will surely die" (Gen 2:17). Paul said that "The wages of sin is death" (Rom 6:23). The valley was a terrifying place of sin and death. But it was also a place people had to pass to get to the gates of the city. Here's where this all comes together. You and I will be faced with sin and its consequences as long as we are on this earth. We can't escape it. But we don't have to fear it. God is with us. If we walk closely with Him we can traverse the sin and death of this world without falling into it. That's what God was saying to me this morning. "Don't be afraid of what you need to do. I am with you. I will not let you fall." And He didn't.
Beloved, the world is filled with sin and death, but if you belong to Christ you can face it with faith in your Shepherd. Your very Good Shepherd who died to save you – His precious little lamb.
*******************************************************************************
P.S. (from bruce)  When there is no other place to turn…turn to God !!  If you're not a "born again" Christian, is the Holy Spirit urging you to open this link ??  Here is the truth about how God's grace is received to become a Christian in God's eyes; through understanding and obeying the gospel of our Lord Jesus Christ…   https://godsmanforever.com
To my brothers and sisters in Christ, please feel free to share this message of the cross with those in need…
Picture credit: https://www.google.com/search?rlz=1C1SQJL_enUS832US832&sxsrf=ALiCzsYO-6GuIxdlS_7dAWvF2b-FUA1JBg:1655293569916&source=univ&tbm=isch&q=image+psalm+23:4&fir=FfM2AkLxu0PbQM%252Cq72qkUpka2ghIM%252C_%253BmUDIEDo3wFqqPM%252C-rrx9GqqWS45yM%252C_%253Br6Yh3Su43Hx4vM%252C-rrx9GqqWS45yM%252C_%253BSG26352ZCdtn8M%252CfO0UZIrgYueBjM%252C_%253BM5PNhhOaWG604M%252CO89f2ijjeFo1rM%252C_%253B6ZOVAurqoKk30M%252C7EvpcQKrZiFgsM%252C_%253BE5n-LJHb1kKrLM%252ClMfL9PbB65lDaM%252C_%253BwapbNl89jMpIaM%252C0AISN6xO-wuUcM%252C_%253BYYpAGqsMqEkj1M%252CoBiK6WTidLk7qM%252C_%253BSaIlL-pnJiqhwM%252CzDRwgMDdbs0TpM%252C_%253BbfU5xMvJ91BpqM%252CujOX9bUeeDDh6M%252C_%253B57IcR7GmNLt_6M%252CaC4P5ZAIM0PFgM%252C_%253Bti6JSv-5HObdOM%252CIrfBmjGOznYd1M%252C_%253ByJ9vRSc1e0H6rM%252C7EvpcQKrZiFgsM%252C_%253BnOXcS3brgla1EM%252CGu8RKx_r72f6SM%252C_%253BoSjaIh1MtuXRoM%252CBkC4naG2QHNeGM%252C_%253BhJAsbY-qk121CM%252C7EvpcQKrZiFgsM%252C_%253B2KESyZY8HDBBZM%252CCVoIcu9XT_2ggM%252C_&usg=AI4_-kRtQ3Q6JL3Xa3ekgchixMagpsfVpA&sa=X&ved=2ahUKEwjdjO-Jsa_4AhWXg4kEHdyxDqkQ7Al6BAgDEEI&biw=1296&bih=877&dpr=1#imgrc=5D9RV82EUNApPM