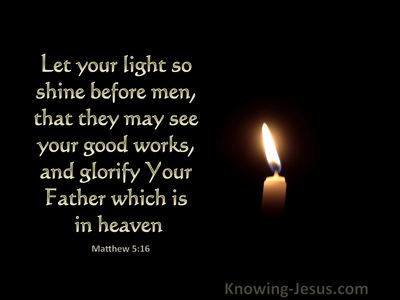 This Little Light of Mine
The power went out at our house for five hours during a very strong storm last week. We immediately started grabbing flashlights. There's something about darkness that is unnerving. Maybe because the Bible equates darkness with sin and evil and emptiness. Before God created all that exists, there was only darkness (Gen 1:2); the first thing He did was call forth light (v. 3-4). But He didn't create the sun and moon and stars until day four (v. 14-19). So where did that first light come from? From Himself. It was His light breaking through the dark, empty void.
When men were lost in darkness and sin, and could no longer see the light of God, He brought His light down to us. John said that Jesus, the very Son of God, is "the true light that gives light to every man" (John 1:9). John also said, "The light shines in the darkness, but the darkness has not overcome it" (1:5). When we turned on the flashlights and lanterns the darkness dissipated. It was driven away because the darkness is nothing more than the absence of light. Wherever light shines, darkness cannot exist.
The same is true spiritually. Consider this – Jesus declared that He is "the light of the world." He added, "Whoever follows me will never walk in darkness, but will have the light of life" (John 8:12). Did you catch that – "will never walk in darkness?" That is both a hopeful promise and a statement of character. Jesus brought the light of God so that we won't stumble in darkness and sin. But John also said, "If we claim to have fellowship with him yet walk in darkness, we lie and do not live by the truth" (1 John 1:6). Simply put – Christ-followers WON'T walk in darkness. And if we do we should recheck the validity of our claim. If we have the light of Christ, there should be no place for darkness in our lives.
Paul says that we are "sons [and daughters] of the light . . . We do not belong to the darkness" (1 Thess 5:5). We belong to Christ. Darkness and all it implies have no authority over the believer. Our testimony in the world is the light of Christ. Jesus said that now "we are the light of the world" (John 5:14). That means that you, Beloved, need to let your little light shine.
*******************************************************************
P.S. (from bruce)  When there is no other place to turn…turn to God !!  If you're not a "born again" Christian, is the Holy Spirit urging you to open this link ??  Here is the truth about how God's grace is received to become a Christian in God's eyes; through understanding and obeying the gospel of our Lord Jesus Christ…   https://godsmanforever.com
To my brothers and sisters in Christ, please feel free to share this message of the cross with those in need…
Picture credit: https://www.google.com/search?q=image+mat+5:16,+bible&tbm=isch&rlz=1C1SQJL_enUS832US832&hl=en&sa=X&ved=2ahUKEwjbkbGcptr4AhX2sXIEHUP1BpsQBXoECAEQRA&biw=1279&bih=820#imgrc=GN79Wnp0bm_wnM