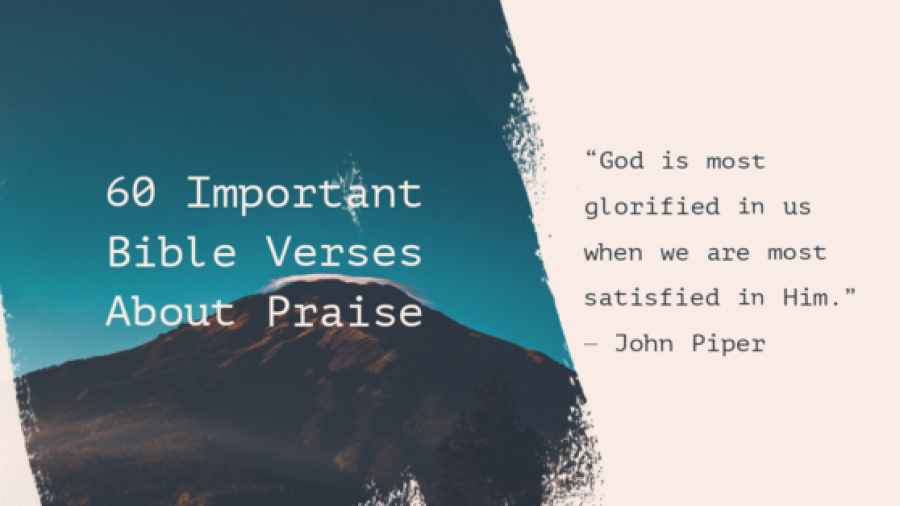 Click below to open 60 Bible verses
Written by Nancy Ruegge for "From The Inside Out" @  http://nancyaruegg.com
What Happens When We Pause to Praise
Approximately 250 times in scripture we're told to praise the Lord[ 1].
Some would see all these calls to praise as the directives of an ego-maniacal god, but that's hardly the case. Upon further investigation of scripture, we find that praise of God is actually good for us.
Isn't that just like our Heavenly Father? We seek to bless him by offering our praises, and he turns right around and blesses us when we do.
What are those blessings of praise? I'm so glad you asked. Here are just seven as a starter list.  You may find a surprise or two.
Praising God alleviates anxieties.  
As we remind ourselves Who's in charge and how he provides for those in his care, fears are calmed.  (Psalm 146 offers an example).
Praising God enhances prayer.
Instead of focusing on the problem which presses us downward, praise turns our attention to what God can do and lifts our spirit upward (See Psalm 103.)
Praising God kicks Satan to the curb.
James 4:7 reminds us, "Resist the devil, and he will flee from you." What better way to resist him than to focus on God's power, promises, and past provisions?
Praise brings the consciousness of the presence of God,
and the liars from the pit cannot effectively market their wares
in the atmosphere of praise.
—Jack Taylor[2]
Praising God magnifies blessings.
When we look through a magnifying glass at an object, we often experience a greater appreciation of that object. Hold a magnifying glass of praise to God for the day's blessings and experience a greater appreciation of Him and his benefits (Psalm 77:11-14).
Praising God offers comfort.
Are you disappointed? Praise God that he brings good out of every situation (Romans 8:28). Are you hurting? Celebrate God's abundant goodness in spite of circumstances (Psalm 145:7). Are you fearful? Rejoice in God, a strong refuge in times of trouble; he is ready and willing to help (Psalm 46:1).
Praising God provides pleasure.
"Praise the Lord, for the Lord is good" encouraged one of the psalmists. "Sing praise to his name, for that is pleasant" (Psalm 135:3). Numerous times in scripture we're urged to sing and shout for joy because of who God is and what he does. Why?
Praising God replenishes faith.
Meditate on Psalm 145 and note all the attributes of God highlighted, including his greatness, (v. 3), the mighty acts he performs (v. 4), the splendor of his majesty (v. 5), and his goodness and righteousness (v. 7).   
The more you praise God, the more you become God-conscious
and absorbed in His greatness, wisdom, faithfulness, and love.
Praise reminds you of all that God is able to do
and of great things He has already done.
Wesley L. Duewel
Add these to the list:
Praising God in the company of others encourages them (Colossians 3:16).
Praising God fine-tunes our perspective as our focus shifts from self to him (Psalm 121).
Praising God grows our hope, humbles our spirits, and ushers in peace (Psalm 33:18-22, Psalm 8, Psalm 62:1-2).
Surely there are still more blessings of praise to be discovered. No wonder G. K. Chesterton wrote:
Thank you, Father, for these many blessings you lavishly supply as we learn to enjoy you through praise. May we grow each day in our capacity to celebrate you at every turn.
Did any of these blessings of praise surprise you? Tell us about it in the comment section below!
---
Notes:
[2] quoted in Satisfy the Thirsty Soul by Linda Dillow, 191.
****************************************************
P.S. (from bruce)  When there is no other place to turn…turn to God !!  If you're not a "born again" Christian, is the Holy Spirit urging you to open this link ??  Here is the truth about how God's grace is received to become a Christian in God's eyes; through understanding and obeying the gospel of our Lord Jesus Christ…   https://godsmanforever.com
To my brothers and sisters in Christ, please feel free to share this message of the cross with those in need…
Picture credit: https://www.google.com/search?rlz=1C1SQJL_enUS832US832&sxsrf=ALiCzsZ6-kpQuW4QEW96uXC5gzQmTDCB1A:1657366774021&source=univ&tbm=isch&q=image+reason+to+praise+God+Bible&fir=G1Qr6DI3kJuTEM%252CFWwa8uNRiOplJM%252C_%253B6av_k4Eadcvj6M%252CVB16s_o2PQLomM%252C_%253Brwr0CZysRCOCjM%252CDhIj5CI7RF5KkM%252C_%253Bkh9SeW_EXsXwZM%252C7UORZ5SZ71cG6M%252C_%253BRsbJf66DvZ2dpM%252CtEwUwA1XufUVLM%252C_%253BNZQDLhxhH9A0CM%252CMen8gB6PJQj37M%252C_%253BJiK71mdZzuw1QM%252CqDLzxVXjoe-u-M%252C_%253Bbp4CbfSn4a54-M%252CVB16s_o2PQLomM%252C_%253BONYFMhUU35b2ZM%252CTUwXdU3FPFoqpM%252C_%253BOPdwZM1hggwG_M%252C7UORZ5SZ71cG6M%252C_&usg=AI4_-kTedxy52MHuk1v3J4116YhCWs4u3w&sa=X&ved=2ahUKEwjTzM-u3Ov4AhXaj4kEHY12CYUQ7Al6BAgCEE0&biw=1296&bih=877&dpr=1#imgrc=DvoWJJ5REduWVM