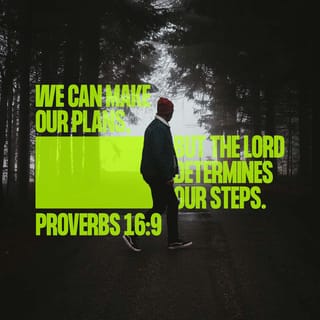 Written by bruce r. mills for "God's group" @ www.Godsmanforever.com
"Watch where you step"
Proverbs 16:9…   A man's heart plans his way, But the Lord directs his steps.
My friends, when you plan any important step in your life, without God's help…you very well may be deceived !!  These major decisions in a person's life usually start to happen in their mid-teens…  What do you want to do after High School ?? Should you go to a 4-year college, or a trade school to find a good job ??  When you are old enough to get married, is this person you want to date God's choice for you ??  Making the wrong choice for any one of these important decisions can have a devastating, and possibly lifelong effect on your life…
We are told from a young age to follow our hearts in making important decisions…  But I am here to tell you that you will be deceived by Satan more times than not if you follow your heart instead of God's will for your life…  Why do I say this ??  I say this because of what God tells us in His inerrant Word, the Bible…
Jeremiah 17:9…  "The heart is deceitful above all things, And desperately wicked; Who can know it?"  (NKJV)
Only God can direct our steps to keep us from falling prey to Satan and the pitfalls Satan wants to ensnare us with…  Satan and his demon friends are so much smarter than we are, that without God's help via the indwelt Holy Spirit, we will most likely fall to Satan's temptations to sin…  Satan lures us into sinning by tempting us with sins that look so good we won't recognize them as sins…
2 Corinthians 11:13-14…   For such are false apostles, deceitful workers, transforming themselves into apostles of Christ. 14 And no wonder! For Satan himself transforms himself into an angel of light.  (NKJV)
This is why it's so important for a young teen, or earlier, to be shared the gospel of our Lord Jesus Christ… [See P.S. below for a gospel presentation]  The word gospel means "good news"… The "good news" is that your lifetime of sins can be forgiven (and forgotten-Isaiah 43:25) by God when you understand that you are born with a natural sin nature, and you cannot save yourself…  God wants you to come to Him for the forgiveness of your lifetime of sins…by confessing your sins to God with godly sorrow and a repentant heart…  God knows what is in your heart and mind, and you must pray to Him with ALL of your heart, mind, soul, and strength, asking God to forgive your sins… You must ask God to send Jesus into your heart to guide and direct your life…  How will you know if God graces you with salvation ??  You will know because when God indwells you with the Holy Spirit, the Apostle Paul pens this, in…
Romans 8:16…  The Spirit Himself bears witness with our spirit that we are children of God,  (NKJV)
Once God has redeemed you as His "born again" child, and filled you with the Holy Spirit…you will have the ability to ask God for help in making important decisions…  I often quote this scripture to teens who profess to be "born again" Christians…  The Apostle Paul pens this scripture in…
Ephesians 3:20…  Now to Him who is able to do exceedingly abundantly above all that we ask or think, according to the power that works in us,  (NKJV)   This power is the supernatural power of the Holy Spirit…
Let's say you think you want to become a nurse…  If you ask God (as one of His redeemed children), if you should become a nurse, God may want you to become a doctor !!  Why limit yourself to your thoughts on a career, when God wants so much more for you…  In the same way, you will always be better off asking God for help in any other life decision…  What school you should go to after graduation ??  Is the person you have been dating God's choice for you for a spouse ??  Be absolutely sure if you're a "born again" Christian, that you marry another believer because God doesn't want you to be unequally yoked to an unbeliever…
2 Corinthians 6:14…  Do not be unequally yoked together with unbelievers. For what fellowship has righteousness with lawlessness? And what communion has light with darkness?  (NKJV)
Before you ask someone out on a date…the absolute most important question you need to find out is, 'are they a "born again" Christian' ??  This is so much more important than how beautiful they look on the outside…  Seek God's help and guidance when looking for a lifelong partner…  And don't make the mistake that they will become a "born again" Christian AFTER you are married…  There is no guarantee they will ever become a redeemed child of God…
I look around at couples that have been married for a long time, and they often tell me that their spouse is also a "born again" believer…
I will sum up today's writing with a piece of scripture penned by Solomon, the wisest man there ever was…1Kings 4:29-31…   Solomon wrote half of the Book of Proverbs, including this…
Proverbs 3:5-6… Trust in the Lord with all your heart, And lean not on your own understanding;  6 In all your ways acknowledge Him, And He shall direct your paths.  (NKJV)
Since God doesn't make any mistakes if you are not yet a "born again" Christian, saved by God's grace alone through saving faith alone in the Lord Jesus Christ…isn't it time you seek Jesus Christ to become your personal Lord and Savior ??   [See P.S. below]    You will find life a whole lot easier, avoiding many of the pitfalls you would have encountered if you were making important decisions with your own mortal mind…   When you seek the advice of God to help you make wise choices, you will find God is answering your prayers on a regular basis…  This is because anything in God's will for your life God will make happen…
1 John 5:14-15…  Now, this is the confidence that we have in Him, that if we ask anything according to His will, He hears us. 15 And if we know that He hears us, whatever we ask, we know that we have the petitions that we have asked of Him.  (NKJV)
How do you know what God's will is for your life ??  I found this link that does an excellent job at answering this important question… See Reference 1. below to find the answer…
There you have it, my friends…  The reason you need God to help you make life's most important decisions…  But once you become a "born again" Christian, it is important that you remain humbled under the mighty arm of God…   And you must do your best to live a "Christ-centered", "Spirit-filled" life…  Since God doesn't ever make any mistakes, why would you not always listen to and obey the Holy Spirit's guidance and direction ??  Do you think you know more than God ??
Gracious God and heavenly Father, I pray that Your living and powerful Word (Hebrews 4:12), would open hearts and minds to see the truth they will find in today's post…  I pray that lives would be transformed by You into obedient believers, who will experience Your grace and mercy to help them through all of life's trials and the direction for their lives…  I pray for all of these changes You will make in the hearts and lives of today's readers, in Jesus' most precious name, and for His sake…Amen…
Blessings in Christ,  bruce
References:
P.S.   When there is no other place to turn…turn to God !!  If you're not a "born again" Christian, is the Holy Spirit urging you to open this link ??  Here is the truth about how God's grace is received to become a Christian in God's eyes; through understanding and obeying the gospel of our Lord Jesus Christ…   https://godsmanforever.com
To my brothers and sisters in Christ, please feel free to share this message of the cross with those in need…
Picture credit:  https://www.google.com/search?sxsrf=ALiCzsYBSRk8P9vDLofEXAHscRehZk_UpA:1657721529497&source=univ&tbm=isch&q=image+prov+16:9,&fir=CzqXk_Lz-MmXkM%252CAc6rIjQGsugtAM%252C_%253BH-LEzVSvWUPXwM%252CZo1mS7R0OAONsM%252C_%253Bc9Rq58yRIHj02M%252CJdBgFYgpidlFNM%252C_%253B1dT9AGKOFhZdTM%252CABpa7zrNYSAAGM%252C_%253BbhYZyrOHta5w9M%252Cy8r8AOVlYzuwlM%252C_%253Bhkkd4AY5ik4W3M%252Ca53caVuoLeTAuM%252C_%253ByEtQ_Gu5MgHADM%252Cu2nkY4cvCv3T2M%252C_%253BYmnDsROcqeEapM%252Ctk5sDzfqFUT57M%252C_%253BPIPVpo3wNgFT1M%252CwU_Q9ewUEJPsPM%252C_%253BMPzEBbUUdYg1ZM%252CbhNNXwVFQwJkCM%252C_%253BVj1X-rJd7Xtf4M%252CawFCU6L4O4ixIM%252C_%253BKupJBC2vGIFXwM%252CJ0geTMp9bjecTM%252C_%253Bqd_FxZXOa02TmM%252CQHKZXRy-x40DHM%252C_%253BY3k-Gya8LexXMM%252CVN13gzITrqW-6M%252C_%253BRuMrqXGFG1wGkM%252CaDG2eAFgQZGfuM%252C_&usg=AI4_-kQ80GnnrPT80lGqEJQ1mQUtKxwP0A&sa=X&ved=2ahUKEwi7s5v3hfb4AhUllIkEHbvBBaEQ7Al6BAgCEEE&biw=918&bih=472&dpr=1.25#imgrc=RuMrqXGFG1wGkM