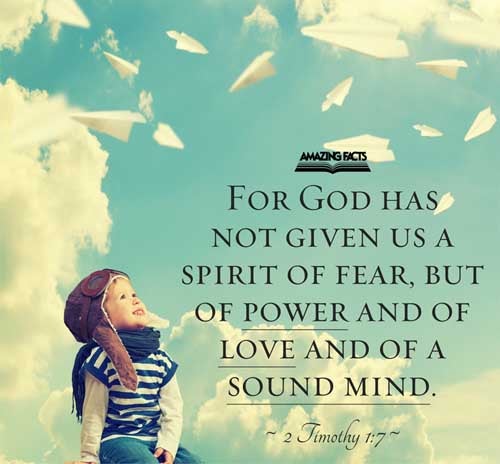 "Train Yourself to be Godly"
"Have nothing to do with godless myths and old wives' tales; rather, train yourself to be godly.
For physical training is of some value, but godliness has value for all things,
holding promise for both the present life and the life to come." 1 Timothy 4: 7-8 (NIV)
It's probably true to say that the essence of this text gets down to five  words – "train yourself to be godly."
This imperative, if acted upon fully, can revolutionize your life, radically improve your relationship with your spouse and children, revitalize our churches, and reform society for the good. For there is unlimited potential when you "train yourself to be godly." Believe me, if you take this text to heart there's no telling what God will be able to do with you. With this prospect in mind let's dig into the text.
The word "train" is an athletic term. It comes from the Greek word gumnos, which means "naked" and is the word from which we derive our English words "gymnastics" and "gymnasium." Traditionally, Greek athletes participated without clothing. Not wanting to be encumbered in any way they exercised and ran races naked. Thus, when we're encouraged to "train" we're being encouraged to be gumnos men and women, i.e believers who get rid of anything that will stop us from running a good race. This will only be possible if we shed ourselves of every association, tendency, or habit that impedes godliness. We must strip down and be free from every possible burden. Nothing, absolutely nothing must be allowed to get in the way.
So how do we go about it? How do you train yourself to be godly? It starts when you learn "to distinguish good from evil" (

Hebrews 5:14

). It begins when you're big enough to humble yourself before God, repent from sin, and call on Him daily to fill you with His Spirit. The writer of Hebrews explains it like this: "Therefore, since we are surrounded by such a great cloud of witnesses, let us throw off everything that hinders and the sin that so easily entangles, and let us run with perseverance the race marked out for us" Hebrews 12:1.
In other words, you will never make spiritual progress without a conscious removal of the things holding you back. You need to take stock and determine what prevents you from working up a spiritual sweat. And you need to overcome the tendency to passivity. That takes guts as well as intention. In order to be trained in godliness, you must take control of your body and the passions that drive it. This means the pursuit of godly character and conduct must be far more important than pursuing a career, paying off the mortgage, or anything else. Now that's not to say that your career, your mortgage, or anything else that's important to you, are necessarily sinful practices. But it is saying that to be a man or woman of God you've got to get your priorities straight. God must be number one. Your primary commitment must be to the disciplines of prayer, purity, meditation, self-examination, fellowship, accountability, worship, integrity, work, ministry, and whatever it takes to have Christ as Lord of your life.
That's a tough call, isn't it? But then no one ever said that spiritual training would be easy. In fact, I believe it's the hardest challenge anyone can face. For it doesn't just happen. It involves hours of labor and striving (cf.

1 Timothy 4:10

). To be a true man or woman of God you must strip away everything that impedes righteousness. As Paul reminds us in

1 Corinthians 9:25-27,

"Everyone who competes in the games goes into strict training. They do it to get a crown that will not last, but we do it to get a crown that will last forever. Therefore I do not run like a man running aimlessly; I do not fight like a man beating the air. No, I beat my body and make it my slave so that after I have preached to others, I myself will not be disqualified for the prize."
You can just taste the sweat in that verse, can't you? It indicates how God is looking for real men and women – believers who smell like they regularly work out in the spiritual gym. The true believer is in training as an athlete – an athlete for Jesus. He's intense, energetic, and competitive for the things of God. He invests his energies for Christ's sake. He willingly submits to a daily training regimen. He perseveres through pain, runs the race with intent, isn't content with half-hearted measures, and pursues spiritual maturity with every fiber of his being. There's no other way. This is what divides, spiritually speaking, the wimps from the winners.
Yes, there's no maturity without exertion. No pain – no gain. No sweat – no sainthood. No perspiration – no progress. No discipline – no discipleship. And no godliness without nakedness (i.e., stripping away every association, tendency, and habit that gets in the way of following hard after God).
There you have it. Nothing in the world can take the place of disciplined training. Intellect will not; it's quite common to find unsuccessful people with intelligence. Talent will not; too many people make cemeteries of their lives by burying their talents. Good intentions will not; the road to hell is paved with good intentions. Disciplined training alone is indomitable.
Now that's not to say that to "train yourself to be godly" implies subjection to Draconian rules which no one can live up to. Nor does it imply that you should pursue godliness in your own strength. There's a big difference between discipline and legalism. And there's a big difference between discipline and works righteousness. The difference is one of motivation: legalism and works righteousness is self-centered whereas discipline is God-centered. Legalism and works of righteousness say, "I'm doing this to gain merit with God" whereas discipline says, "I'm doing this because I love God and want to please Him." As we're reminded in

Ephesians 2:8-9

, "For it is by grace you have been saved, through faith – and this not from yourselves, it is the gift of God – not by works, so that no one can boast." Thus, as we consider what it means to "train yourself to be godly" let's not forget that it's only possible through God's grace and strength.
Finally, we should recognize that training in godliness must last a lifetime. There can never be a day off. You can't work at it one day and take a break the next. It's not something you do for just a season. It's not something that only happens on Sunday morning. It involves long and faithful obedience toward an ultimate goal. You never retire. You must flex your spiritual muscles constantly. You must work out in God's gymnasium regularly. Training in godly character and conduct is something that doesn't end until you cross the finish line.
*********************************************************
P.S. (from bruce)  When there is no other place to turn…turn to God !!  If you're not a "born again" Christian, is the Holy Spirit urging you to open this link ??  Here is the truth about how God's grace is received to become a Christian in God's eyes; through understanding and obeying the gospel of our Lord Jesus Christ…   https://godsmanforever.com
To my brothers and sisters in Christ, please feel free to share this message of the cross with those in need…
Picture credit: https://www.google.com/search?rlz=1C1SQJL_enUS832US832&sxsrf=ALiCzsZaorbZd4PbpSqkXeWvmEBzuUz_Bw:1663160172962&source=univ&tbm=isch&q=image+2+Tin+1:7&fir=aDz_QhjsnlEQwM%252CWD8IVYyKEUPMoM%252C_%253ByLlfST1Ec4zYOM%252C7tJ9IMr4TKEUqM%252C_%253BP5Ui5QOn1ZjKTM%252C47PqseFG1ek8rM%252C_%253BvataofVnDlsdNM%252CWESXH0dksWQ4WM%252C_%253BYC4uKTLH5kWbhM%252C4MuMt83g3NF8TM%252C_%253B0ZArSlb2w2duSM%252CwOQSaO9htAqI5M%252C_%253Bs6lT0Qfdv_RZUM%252Crs8_VCz31uFqjM%252C_%253BsMK0ltpcEwfMDM%252CwOQSaO9htAqI5M%252C_%253BGtm5N5Gxg5-wwM%252CwOQSaO9htAqI5M%252C_%253BnIAVZXMAxSM-xM%252CDr_Lve4fQpBojM%252C_&usg=AI4_-kREx5LQCre7oKkVIEJ97qHfaMAfkQ&sa=X&ved=2ahUKEwiz7sC6qpT6AhXqjokEHYxYCusQ7Al6BAgDEE0&biw=1392&bih=864&dpr=1#imgrc=nIAVZXMAxSM-xM