"Our Daily Bread"     http://odb.org/
The Daily Devotions of Greg Laurie    http://www.harvest.org/devotional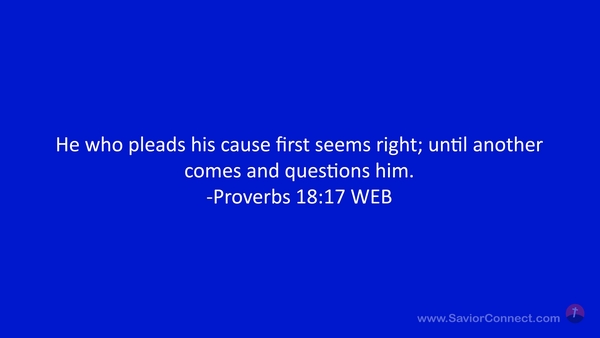 Written by Pastor Jim Lee for "The Domain for Truth" @ veritasdomain.wordpress.com
Original post @  https://veritasdomain.wordpress.com/2021/11/20/one-of-the-most-dangerous-potential-weapon-against-you-and-proverbs-1817/
One of the most dangerous potential weapon against you and Proverbs 18:17
November 20, 2021 by SLIMJIM
Every problem in our time seems to be further fueled by social media.  I realize social media can be a great tool.  I realize there are many different opinions.  But I'm most concerned with falsehoods that spread, that target individuals with false accusations.  This seems particularly heinous than just different perspectives and disagreements about things.  A thought came to mind that I couldn't let go of tonight:
With social media, there has never been a time in history like ours where an ordinary person like yourself can at any unexpected moment be judged wrongly by others on the basis of the least minimal data potentially spreading to the largest amount of people with some of the gravest consequences.
Let me expand on that:
Judged wrongly by others on the basis of the least minimal data: a screenshot, a clip, a sound bite.

Spreading to the largest amount of people: contents about you going around social media or worst, going viral.

Gravest consequences: employers firing you, clients no longer going to your business and your company dies, legal woes, cancel culture, suicide or others physically harming you.
Sobering. This should make us slow down how we use social media. Especially when we hear an individual or a group is described as being in the wrong. Remember Proverbs 18:17: "The first to plead his case seems right, Until another comes and examines him." Be that second person.  Sometimes that means we might be more slower to speak and share.  It means we have to ask questions; and hard questions.
********************************************************
P.S. (from bruce)  When there is no other place to turn…turn to God !!  If you're not a "born again" Christian, is the Holy Spirit urging you to open this link ??  Here is the truth about how God's grace is received to become a Christian in God's eyes; through understanding and obeying the gospel of our Lord Jesus Christ…   https://godsmanforever.com
To my brothers and sisters in Christ, please feel free to share this message of the cross with those in need…
Picture credit:  https://www.google.com/search?source=univ&tbm=isch&q=image+proverbs+18:17&fir=ku2p4gy-wqz0HM%252CKGm7hO3PvQPCIM%252C_%253BqjBtYzoWZdyZmM%252Ck-iGzgE8KgI_GM%252C_%253B5l9rL0CuzVQBiM%252C-GTfBrSeTPzeAM%252C_%253BZbd0jXzZkDb81M%252CKGm7hO3PvQPCIM%252C_%253BaRaoeDr7SOaycM%252C8MA4bt4rm-CMZM%252C_%253B_8pH_-8LjxHZLM%252CaZqaaZDxkQ_zDM%252C_%253BV8p2vRYZbB5acM%252CV93kKAYVmiUuxM%252C_%253BVGpTVGusX4wyHM%252Cs4dQIoxoY-gNJM%252C_%253BIzLwKXGaWlj52M%252C1_kBh88NNo8u_M%252C_%253Bt0KbknHRC3NXcM%252CnyMh2_k-twPxxM%252C_%253Bf4eX6MhaTMlt_M%252CKGm7hO3PvQPCIM%252C_%253BrtC18xEO3RHWPM%252Ca3TEhwf9bkHHTM%252C_%253BN0eDY7Vzn0afEM%252C5MwMpQBdEAj5PM%252C_%253BUdGNx98KmE-aUM%252CKGm7hO3PvQPCIM%252C_%253B474Ks4aIjKbiIM%252C1_kBh88NNo8u_M%252C_&usg=AI4_-kQFj_aNOqMjxpcm3yxaQYONluRgXg&sa=X&ved=2ahUKEwiax8esn576AhU_hIkEHWsgCpEQ7Al6BAgDECw#imgrc=474Ks4aIjKbiIM