"Our Daily Bread"     http://odb.org
The Daily Devotions of Greg Laurie    http://www.harvest.org/devotional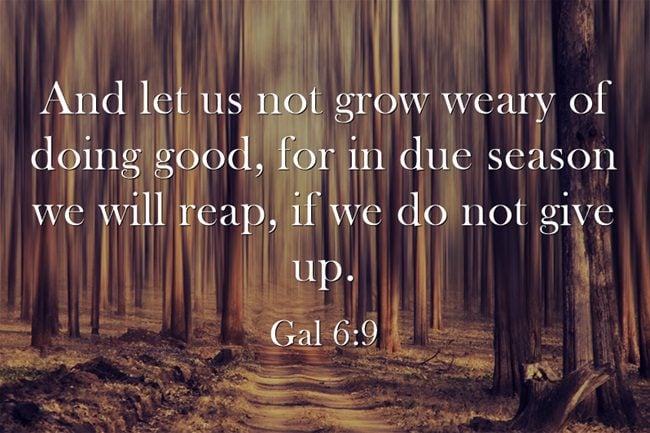 Written by Louis Mize, a good friend  @  https://www.facebook.com/louis.mize
"Don't grow weary"
But ye brethren, be not weary of well doing.
2nd Thessalonians 3:13
Sometimes it's hard not to grow weary. It is even more difficult to not grow weary of well-doing. It is especially hard when there are many around you who are not practicing well-doing but are bent on doing exactly the opposite.
The Bible never promises us that living our life for Christ would be an easy task. In fact, it promises just the opposite. We are told that all who will live godly in Christ Jesus shall suffer persecution (2nd Timothy 3:12). It doesn't say "may suffer". It says we "shall suffer". And so, human nature begins to reason that if we are going to suffer or grow weary in well doing, then what is the use?
Sometimes we desire to sit on the bench. Sometimes we are even hoping to get benched by others, falsely believing that will get us off the hook. We get like that when we grow weary of well-doing. Don't let weariness cause you to be a bench warmer, or to grow weary in doing what God has called you to do.
Remember, even while sitting on the bench, we still wear the uniform. And don't allow PEOPLE to overrule God's purpose and calling in your life, because of their actions or inaction. God is on His throne, and God knows and sees it all, my friends, and HE will take care of you. He will also take care of everyone else.
************************************************
P.S. (from bruce)  When there is no other place to turn…turn to God !!  If you're not a "born again" Christian, is the Holy Spirit urging you to open this link ??  Here is the truth about how God's grace is received to become a Christian in God's eyes; through understanding and obeying the gospel of our Lord Jesus Christ…   https://godsmanforever.com
To my brothers and sisters in Christ, please feel free to share this message of the cross with those in need…
Picture credit: https://www.google.com/search?sxsrf=ALiCzsaZNUj5qJDnsUTGXUgXPAtCmT1TXw:1663847212848&source=univ&tbm=isch&q=image+don%27t+grow+weary+Bible&fir=0hoR81PfmiQLEM%252CNY9dI62s6EksSM%252C_%253BKdeV-Y5YXl9tKM%252C9PtL1cJ23GygNM%252C_%253BW3pilDL3Ucpb0M%252CfZwwnw6gUZwTPM%252C_%253BNFwfPkHDJhpNuM%252CfZwwnw6gUZwTPM%252C_%253Btjmpril22RPu8M%252CW6A4uDnAHF5HhM%252C_%253Bsy-ZUpSzKISXSM%252CA_4V_cA0Vw-AOM%252C_%253BBipw2xrJYmUPXM%252CyhWEJ-8bpzAHGM%252C_%253BJyxpwGBXRRpqoM%252CN9cZ5B7oSCJ5-M%252C_%253B_sTQZMi_gU5mUM%252CuL1zFBwoSzKdsM%252C_%253B6Q6i0G6i_ujalM%252CfZwwnw6gUZwTPM%252C_&usg=AI4_-kT2sVh2XPowoBSdnCQMd2NqKPs70A&sa=X&ved=2ahUKEwiM9dPwqaj6AhV1kYkEHdhuDWwQ7Al6BAgEEEI&biw=824&bih=518&dpr=1.25#imgrc=huE73RyOKf-JTM