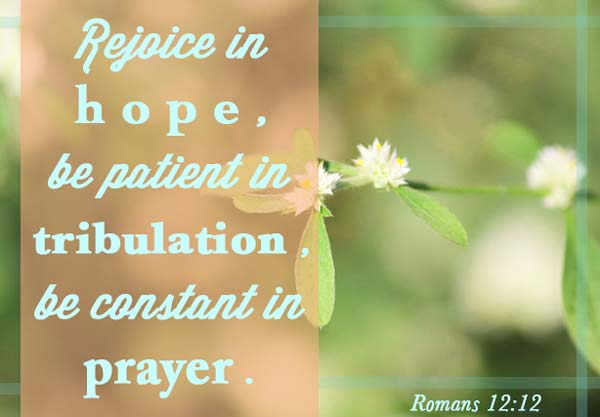 Who Are You Praying For?
When I was at the Seminary, I remember thinking this pastoral path might not work out. g out. That first year was tough. Greek and Hebrew classes simultaneously drove me to the brink of walking away from public ministry. One day I was sitting in the little chapel under Luther's tower in St. Louis and engraved in Greek around the altar were the words from Romans 10: "how are they to believe in him of whom they have never heard? And how are they to hear without someone preaching? And how are they to preach unless they are sent?"
Those words stopped me in the middle of my pity party and refocused my attention on the greater mission. It got me thinking of family, friends, and co-workers who need the hear the Word of God and the wonderful opportunity for the Church to proclaim what Jesus has done for them and the world. Let me ask you who are the people on your FRANC list? What's a FRANC list, you may ask? It's a list of names, organized in groups to cover all the people you know.
Friends
Relatives
Acquaintances
Neighbors
Co-workers
You might create this list as you consider whom you want to invite to a party, to a church-sponsored event, to your kids' sporting event, or to join you in a business venture. I would invite you to consider planning a FRANC list for whom you'll be praying.
What is the goal of creating this list?
Please pray for the people on the list. They may come to know Jesus and the joy and peace and love that He has for them. Pray for God to send someone into their lives who will speak the gospel to them in a way that they can hear it as good news for them. Please pray that when the seed of the Gospel is heard and it lands in good soil.
As Romans 10 reminds us, "Everyone who calls on the name of the Lord shall be saved." But how are they to call on one whom they have not believed? And how are they to believe in one of whom they have never heard? And how are they to hear without someone to proclaim him? And how are they to proclaim him unless they are sent? As it is written, "How beautiful are the feet of those who bring good news!"
Faith comes from what we hear, and what we hear comes through the Word of Christ.
*****************************************
P.S. (from bruce)  When there is no other place to turn…turn to God !!  If you're not a "born again" Christian, is the Holy Spirit urging you to open this link ??  Here is the truth about how God's grace is received to become a Christian in God's eyes; through understanding and obeying the gospel of our Lord Jesus Christ…   https://godsmanforever.com
To my brothers and sisters in Christ, please feel free to share this message of the cross with those in need…
You say you are a "born again" believer…  BUT is your soul "ON FIRE" for the Lord ??  If not, open this link – https://godsmanforever.com/2020/08/01/are-you-a-christian-in-gods-eyes-and-on-fire-for-the-lord-or-not/
Picture credit: https://www.google.com/search?rlz=1C1SQJL_enUS832US832&sxsrf=ALiCzsasYAujUfxxZX7lZe_izhJ4EjKQLQ:1668954582799&source=univ&tbm=isch&q=image+the+importance+of+prayer+Bible&fir=joiHg25ejm3oOM%252Cn-1GIOhP33jv-M%252C_%253Bj0KtR1V695qB5M%252Cn-1GIOhP33jv-M%252C_%253ByPebiXeraF9NiM%252COQQmQeEiAZD-9M%252C_%253B8FDSgeTgn3JYQM%252Cn-1GIOhP33jv-M%252C_%253B55vk1fv1pLVdDM%252C_4O4GEyXdyN9LM%252C_%253BdtykKekA3B_m6M%252C4cUyy66llizqhM%252C_%253B7EwfjdYmT01rqM%252C4cUyy66llizqhM%252C_%253Bb8bt_fCooCjTuM%252CLaaquQ-3HkaX7M%252C_%253BFZ5UudZRl50B6M%252COQQmQeEiAZD-9M%252C_%253BRzKsgIFXGQNy5M%252C0qagb43pqbZXlM%252C_&usg=AI4_-kRR3YI9_Y6Onr_i18vLCeCV3G6ELA&sa=X&ved=2ahUKEwiA5Lao_Lz7AhUBjYkEHWymALMQ7Al6BAgGEEw&biw=1304&bih=873&dpr=1#imgrc=RzKsgIFXGQNy5M