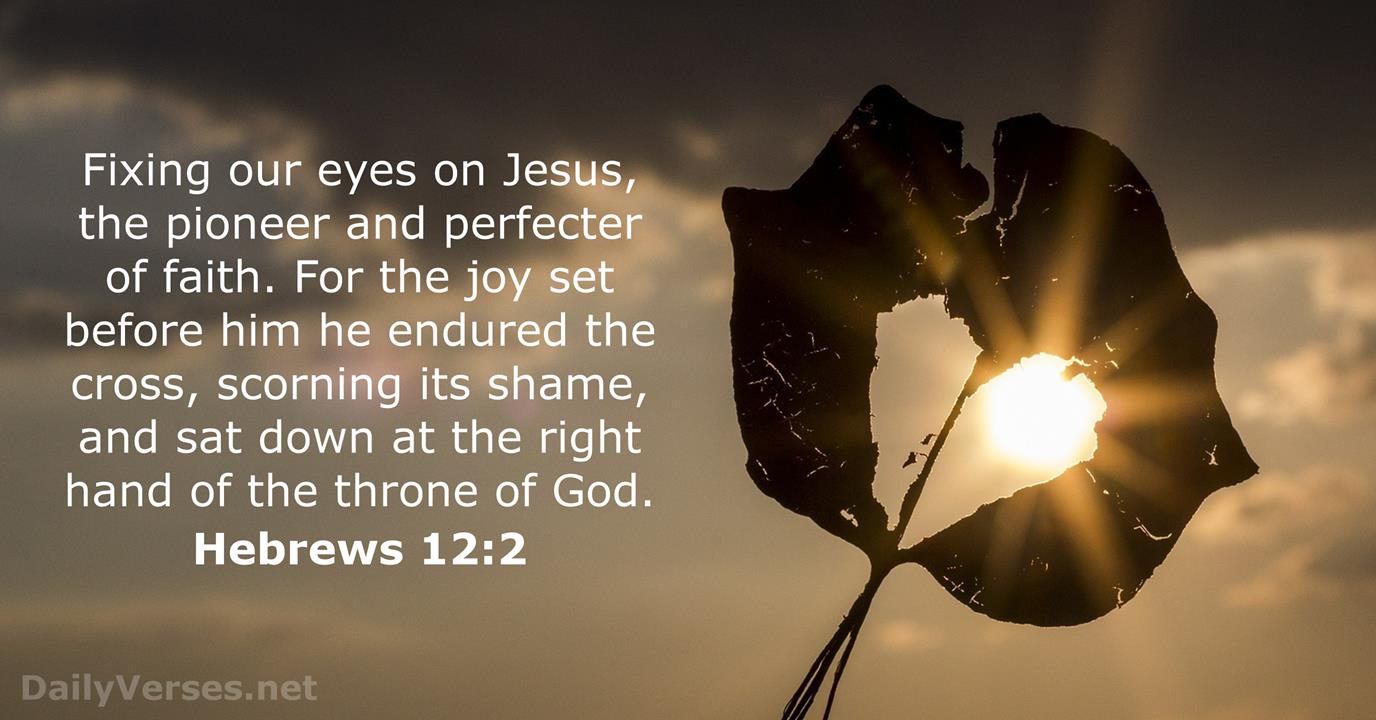 Written by Pastor Jim Lee for "The Domain for Truth" @ veritasdomain.wordpress.com
The Place for Christian Example
December 17, 2022 by SLIMJIM
We talk about the Word of God here on this blog.
But there's also the importance of being an example.
Hebrews 12:1-3 reminded me today:
Therefore, since we also have such a great cloud of witnesses surrounding us, let's rid ourselves of every obstacle and the sin which so easily entangles us, and let's run with endurance the race that is set before us, 2 looking only at Jesus, the originator and perfecter of the faith, who for the joy set before Him endured the cross, despising the shame, and has sat down at the right hand of the throne of God. 3 For consider Him who has endured such hostility by sinners against Himself, so that you will not grow weary and lose heart.
There's the importance of the examples of Jesus, but there's also the importance of others.  And hopefully, that includes us being an example.
Which is convicting.
It is something worth praying about.
It is worth it for us to see Christ and see his example, but also trust in Him. Then we follow His example by His grace.
************************************
P.S. (from bruce)  When there is no other place to turn…turn to God !!  If you're not a "born again" Christian, is the Holy Spirit urging you to open this link ??  Here is the truth about how God's grace is received to become a Christian in God's eyes; through understanding and obeying the gospel of our Lord Jesus Christ…   https://godsmanforever.com
To my brothers and sisters in Christ, please feel free to share this message of the cross with those in need…
You say you are a "born again" believer…  BUT is your soul "ON FIRE" for the Lord ??  If not, open this link – https://godsmanforever.com/2020/08/01/are-you-a-christian-in-gods-eyes-and-on-fire-for-the-lord-or-not/
Picture credit: https://www.google.com/search?rlz=1C1SQJL_enUS832US832&sxsrf=ALiCzsaE491XdB0nc-StiInfNJe8GDSVlQ:1671454426118&source=univ&tbm=isch&q=image+heb+12:2&fir=qUPfBGEFelJsEM%252Cu1Qy2-nR-xeaSM%252C_%253BW-Lm482sqSHYjM%252CAmdSbMXo4SZ1xM%252C_%253B5-dGykNhXyW8aM%252CzZ4pY1gHHwGi-M%252C_%253Bh6-gca2D0txZgM%252CAmdSbMXo4SZ1xM%252C_%253BS31tuFYmXQEs4M%252Cv9jdoX0rgjucaM%252C_%253B8ProChYQ-cn2KM%252CNw-mMH0KLkrDfM%252C_%253BXJRO-tbtMLr1OM%252C4rRAm0YBvQhYJM%252C_%253BLwhBmSj4xC-DRM%252CBvrYI5mO40qlHM%252C_%253BBBFSYpHQQE-G7M%252Cv9jdoX0rgjucaM%252C_%253BtbmTQMkhZeSLPM%252C4rRAm0YBvQhYJM%252C_&usg=AI4_-kQBZDS8nBttm25VuAMqMVqvpLPo_g&sa=X&ved=2ahUKEwi7sc763IX8AhXoF1kFHdDbAaQQ7Al6BAgHEEI&biw=1304&bih=930&dpr=1#imgrc=FKs9mAJnoV-LCM