"Our Daily Bread"     http://odb.org/
The Daily Devotions of Greg Laurie    http://www.harvest.org/devotional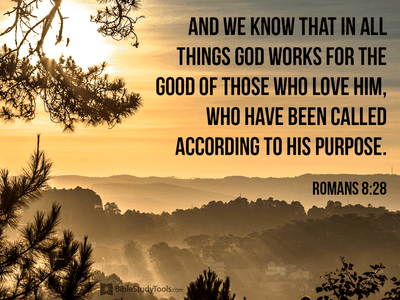 Written by  Keith Haney for "THE LIGHT BREAKS THROUGH" @ https://alightbreaksthrough.org
Original post @ https://alightbreaksthrough.org/hardships-are-inevitable/
Hardships are Inevitable
At the beginning of a new school year, a class teacher stands up in front of her students holding a $100 bill.
She tells them, "Put your hands up if you want this money".
Every hand in the room goes up, to which the teacher says, "I am going to give this money to someone here, but first, let me do this…"
She takes the bill and crumples it up in her hands, before asking, "Who still wants it?"
The hands stay up.
The teacher then drops the bill on the floor, stomps and grinds it into the ground, and picks it back up. "How about now?" she asks again.
The hands stay up.
"Class, I hope you see the lesson here. It didn't matter what I did to this money, you still wanted it because its value stayed the same. Even with its creases and dirtiness, it's still worth $100."
She continues, "It's the same with us. There will be similar times in your life when you're dropped, bruised, and muddied. Yet no matter what happens, you never lose your value."
Moral of the story:
Life's hardships are inevitable, and we'll all be put through the wringer at some point, often through no fault of our own.
Don't let these challenges alter your feelings of self-worth. You'll always be enough; you have something unique and special to give and offer the world.
Paul would add this to the conversation
7 But we have this treasure in jars of clay to show that this all-surpassing power is from God and not from us. 8 We are hard pressed on every side, but not crushed; perplexed, but not in despair; 9 persecuted, but not abandoned; struck down, but not destroyed. 10 We always carry around in our body the death of Jesus, so that the life of Jesus may also be revealed in our body. 11 For we who are alive are always being given over to death for Jesus' sake, so that his life may also be revealed in our mortal body. 12 So then, death is at work in us, but life is at work in you. 2 Corinthians 4:7-12
Application:
Like in the illustration above it is natural to concentrate on the externals. I love a crisp new bill, but the old, tattered money still maintains the same value. All believers we must concentrate on the treasure and not on the vessel. Paul was not scared of suffering or trial, because he realized that God would preserve the vessel so long as Paul was looking after the treasure God permits trials, God controls trials, and God uses trials for His own glory. God is exalted through fragile vessels.
Occasionally God enables our vessels to be rattled so that some of the treasure will spill out and enrich others. Suffering acknowledges not merely the frailty of man but likewise the majesty of God. Paul offered an array of anomalies in this passage: earthen vessels—power of God; the dying of Jesus—the life of Jesus; death working—life working. The natural mind cannot fathom this kind of sacred truth and thus cannot understand why Christians triumph over suffering.
Not merely must we focus on the treasure and not on the vessel, but we must likewise focus on the Master and not on the servant. If we suffer, it is for Jesus' sake. If we die to self, it is so that the life of Christ might be revealed in us. If we go through trials, it is so that Christ might be glorified. And all of this is for the sake of others. As we serve Christ, death works in us—but life works in those to whom we minister.
*****************************************
P.S. (from bruce)  When there is no other place to turn…turn to God !!  If you're not a "born again" Christian, is the Holy Spirit urging you to open this link ??  Here is the truth about how God's grace is received to become a Christian in God's eyes; through understanding and obeying the gospel of our Lord Jesus Christ…   https://godsmanforever.com
To my brothers and sisters in Christ, please feel free to share this message of the cross with those in need…
You say you are a "born again" believer…  BUT is your soul "ON FIRE" for the Lord ??  If not, open this link – https://godsmanforever.com/2020/08/01/are-you-a-christian-in-gods-eyes-and-on-fire-for-the-lord-or-not/
pic credit: