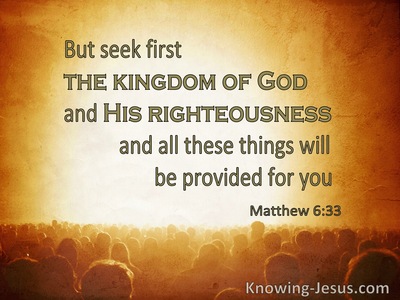 One Thing
But seek first his kingdom and his righteousness, and all these things will be given to you as well.  Matthew 6:33
Does life seem to be passing you by? Somehow divided – about many things but about nothing? Are you torn between competing obligations? Are you feeling scattered, confused, and lacking integration? Are your loyalties divided? Do you feel "like a wave of the sea, blown and tossed by the wind" James 1:6.
If so then one thing is needed. You need a singleness of purpose. You need a focus that brings meaning and consistency to your life. You need to pursue one thing; not anything; not something; just one thing.
So what is this one thing? What brings clarity to life? How does one achieve simplicity? And what's needed for an integrated, meaningful, holistic existence?
The story of two women provides the answer. Mary and Martha were sisters who had invited Jesus to visit their home. While Mary sat and listened to what Jesus was saying Martha was distracted by all the preparations that had to be made in the kitchen – torn between competing obligations. Finally, Martha cracked. Coming to Jesus and Mary she interrupted saying, "Lord, don't you care that my sister has abandoned me and left me to do all the work? Tell her to help me!" Jesus answered saying, "Martha, Martha, you are worried and upset about many things, but only one thing is needed. Mary has chosen what is better . . ."  Luke 10:38-42.
In other words, Martha needed Jesus. Jesus is the one thing that's needed when we're worried and upset about many things. He's the One thing that brings meaning and focus to our lives. And He's the One who integrates our existence and makes us whole. So "seek first his kingdom and his righteousness, and all these things will be given to you as well"  Matthew 6:33.
**********************************************
P.S. (from bruce)  When there is no other place to turn…turn to God !!  If you're not a "born again" Christian, is the Holy Spirit urging you to open this link ??  Here is the truth about how God's grace is received to become a Christian in God's eyes; through understanding and obeying the gospel of our Lord Jesus Christ…   https://godsmanforever.com
To my brothers and sisters in Christ, please feel free to share this message of the cross with those in need…
You say you are a "born again" believer…  BUT is your soul "ON FIRE" for the Lord ??  If not, open this link – https://godsmanforever.com/2020/08/01/are-you-a-christian-in-gods-eyes-and-on-fire-for-the-lord-or-not/
Picture credit: https://www.google.com/search?rlz=1C1SQJL_enUS832US832&sxsrf=ALiCzsZ-24pVUlJX3rxN_sGXtLp-wWjVZg:1672836834955&source=univ&tbm=isch&q=image+Matthew+6:33&fir=OCMQKwdYdPFaoM%252C0zE5ZbIMVs8PlM%252C_%253BkIL3nzvq3AqB_M%252CLxQH1vMXktxICM%252C_%253BUmrt13EVkbVeHM%252C2XSk_9nnWXb8GM%252C_%253BTxD-vHKp69Ip1M%252CW2uU0Etmfjz74M%252C_%253BwOK9kyZ_jkvURM%252CHNAJ-7D3HLe4aM%252C_%253BCp7LdxFWtuxnUM%252Co66sx1Pemy7GmM%252C_%253BVCJbchEpQOpfkM%252Cvq8DXylz0cRERM%252C_%253BzeFEMrCnm6Sj0M%252CS3qQIoWGXygA9M%252C_%253BkeaTISzbf4lQlM%252C4uS8f6f8UPqonM%252C_%253B-oFL2eFVwGaRaM%252C8NULgqSDoZf_QM%252C_%253BD7LAGPQWcx9JoM%252CtIlRKxRMrqBeTM%252C_%253B4ccOVb5fXoYOSM%252C2Df7-h5bdzxLqM%252C_%253BPeQaIwGzhtKhpM%252CkpQaMS2oRiXiKM%252C_%253Bc1RYG3CAWCUC6M%252CHNAJ-7D3HLe4aM%252C_&usg=AI4_-kQzapZX37NjuMQ925g0r3Qa5zIeiQ&sa=X&ved=2ahUKEwiB5cHq-q38AhVSNlkFHfneCEcQ7Al6BAgIED8&biw=1304&bih=930&dpr=1#imgrc=TxD-vHKp69Ip1M