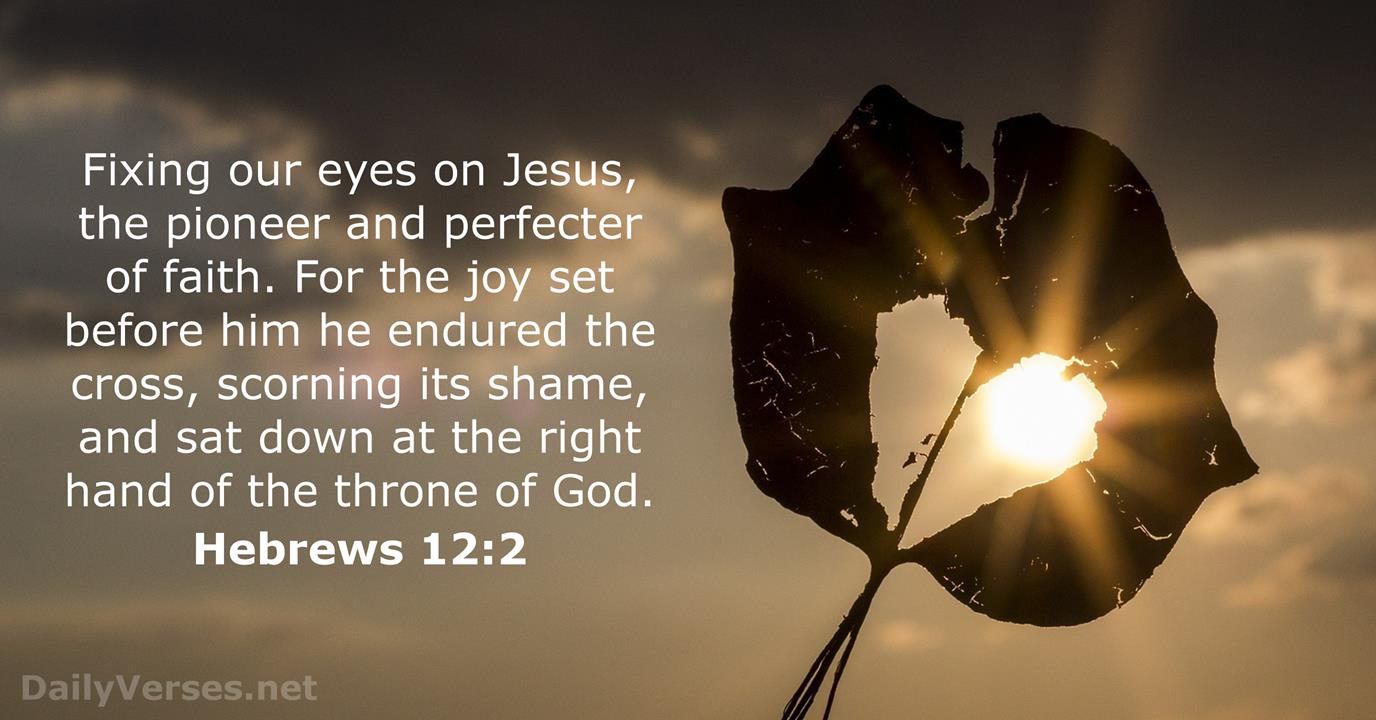 Written by Pastor Jim Lee for "The Domain for Truth" @ veritasdomain.wordpress.com
Meditating on Christ's Joy to Endure the Cross Changes Us
January 19, 2023 by SLIMJIM
While teaching my kids yesterday a biblical truth leaped at me.  A truth that I know before but for some reason it deepen my love for Christ yesterday.
The thought was this truth that Christ willingly and joyfully wanted to die for sinners.
A verse worth meditating upon is the following:
"looking only at Jesus, the originator and perfecter of the faith, who for the joy set before Him endured the cross, despising the shame, and has sat down at the right hand of the throne of God." (Hebrews 12:2)
The verse mentioned the joy of Christ.  And the Joy of Christ is concerning something that normally we associate with the opposite of joy: Suffering.  Specifically, in Christ's case, it is with the following: "endured the cross."  This includes also being shamed as the verse mentioned.
That is incredible.
Most of us would not want to go through something like that; and if we do face such a situation many of us would not want to do it willingly with joy.
But Christ did so with Joy.
What's the application for us with knowing this about our Savior? "looking only at Jesus, the originator and perfecter of the faith."  We have got to behold and focus on worshipping Him.  Notice Christ is One who perfects our faith, and our faith becomes more sanctified the more we behold Him (see 2 Corinthians 3:18).
I think meditating upon Christ's willingness to suffer and obey God the Father moves my own motive to obey God willingly.  Christians need to understand that we cannot make a shortcut to holiness by removing worshipping Christ; furthermore, it is worshipping Christ that fuels our sanctification and holiness.  It is the rubber that meets the road of true transformation!
**********************************************
P.S. (from bruce)  When there is no other place to turn…turn to God !!  If you're not a "born again" Christian, is the Holy Spirit urging you to open this link ??  Here is the truth about how God's grace is received to become a Christian in God's eyes; through understanding and obeying the gospel of our Lord Jesus Christ…   https://godsmanforever.com
To my brothers and sisters in Christ, please feel free to share this message of the cross with those in need…
You say you are a "born again" believer…  BUT is your soul "ON FIRE" for the Lord ??  If not, open this link – https://godsmanforever.com/2020/08/01/are-you-a-christian-in-gods-eyes-and-on-fire-for-the-lord-or-not/
Picture credit: https://www.google.com/search?rlz=1C1SQJL_enUS832US832&sxsrf=ALiCzsaE491XdB0nc-StiInfNJe8GDSVlQ:1671454426118&source=univ&tbm=isch&q=image+heb+12:2&fir=qUPfBGEFelJsEM%252Cu1Qy2-nR-xeaSM%252C_%253BW-Lm482sqSHYjM%252CAmdSbMXo4SZ1xM%252C_%253B5-dGykNhXyW8aM%252CzZ4pY1gHHwGi-M%252C_%253Bh6-gca2D0txZgM%252CAmdSbMXo4SZ1xM%252C_%253BS31tuFYmXQEs4M%252Cv9jdoX0rgjucaM%252C_%253B8ProChYQ-cn2KM%252CNw-mMH0KLkrDfM%252C_%253BXJRO-tbtMLr1OM%252C4rRAm0YBvQhYJM%252C_%253BLwhBmSj4xC-DRM%252CBvrYI5mO40qlHM%252C_%253BBBFSYpHQQE-G7M%252Cv9jdoX0rgjucaM%252C_%253BtbmTQMkhZeSLPM%252C4rRAm0YBvQhYJM%252C_&usg=AI4_-kQBZDS8nBttm25VuAMqMVqvpLPo_g&sa=X&ved=2ahUKEwi7sc763IX8AhXoF1kFHdDbAaQQ7Al6BAgHEEI&biw=1304&bih=930&dpr=1#imgrc=FKs9mAJnoV-LCM