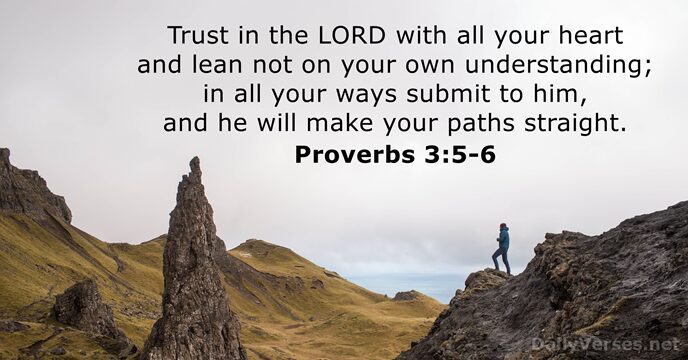 Here is a link to 10 scripture verses on trusting in the Lord- https://www.gracefullittlehoneybee.com/10-bible-verses-trusting-god/
"Trust in the Lord !!"
In thee, O Lord, do I put my trust; let me never be ashamed; deliver me in thy righteousness.
Psalm 31:1
I have trusted in many things during my lifetime. I have trusted in many people too. And I found out that both people and things will fail me. I have learned by experience that though the things and cares of this world will fail me and let me down, God never has nor ever will fail me. I have learned that trusting in the Lord is the very wisest thing that a man can do!
This morning I also remembered some times when I failed miserably at trusting in the Lord. Those were the times I tried to fix things on my own. I found out that when I attempt to leave God out of any problem, that problem becomes "unfixable".
The middle verse in the word of God is Psalm 118:8. It tells us to trust in God. It is the very heart, the very center of His word. For even when we begin to forget to trust God and start to trust in some man, we are doomed for failure. And the only way to recover fully from any of our failures is to TRUST in the LORD! And when I trust in Him, He delivers me in HIS RIGHTEOUSNESS and never in my own righteousness. For you see, His righteousness is perfect. Ours never is.
**************************************************
P.S. (from bruce)  When there is no other place to turn…turn to God !!  If you're not a "born again" Christian, is the Holy Spirit urging you to open this link ??  Here is the truth about how God's grace is received to become a Christian in God's eyes; through understanding and obeying the gospel of our Lord Jesus Christ…   https://godsmanforever.com
To my brothers and sisters in Christ, please feel free to share this message of the cross with those in need…
You say you are a "born again" believer…  BUT is your soul "ON FIRE" for the Lord ??  If not, open this link – https://godsmanforever.com/2020/08/01/are-you-a-christian-in-gods-eyes-and-on-fire-for-the-lord-or-not/
Picture credit: https://www.google.com/search?rlz=1C1SQJL_enUS832US832&sxsrf=AJOqlzXnLBasVRqkmyJj6MIfF7C-B5tOJw:1674651617353&q=image+trust+in+the+Lord+Bible&tbm=isch&source=univ&fir=RSolDGD6kkOTnM%252CpLDVhixj5R25SM%252C_%253BRa-PCB61dIahlM%252Ctz1zfhwHbdq0nM%252C_%253ByG6gNgYLGgt1WM%252CGb8t9DAMxkvDDM%252C_%253BdzaD7_IZew58zM%252C6Eoj6DaXQxm_LM%252C_%253BKo9VNfNAnlQTrM%252CGb8t9DAMxkvDDM%252C_%253BCWm4wqnUG4sC9M%252CAtr-H_wjlJiVfM%252C_%253BxC9QJqujtD-KlM%252C29XXWajTBC2hcM%252C_%253BOW1BeJDunFB1qM%252CHkRbYZOJStedeM%252C_%253B2zXkftYJuiBSYM%252CLbMuFYQViekPWM%252C_%253B03lcp6OIaEhFHM%252C6coHhu-qIiYiwM%252C_&usg=AI4_-kR1AxGclveZAOB8Iwva4W39TD-IAQ&sa=X&ved=2ahUKEwiLhpm24-L8AhVMEVkFHRBdCasQ7Al6BAgIEEo&biw=1338&bih=930&dpr=1#imgrc=uz37jY_iXbyT7M