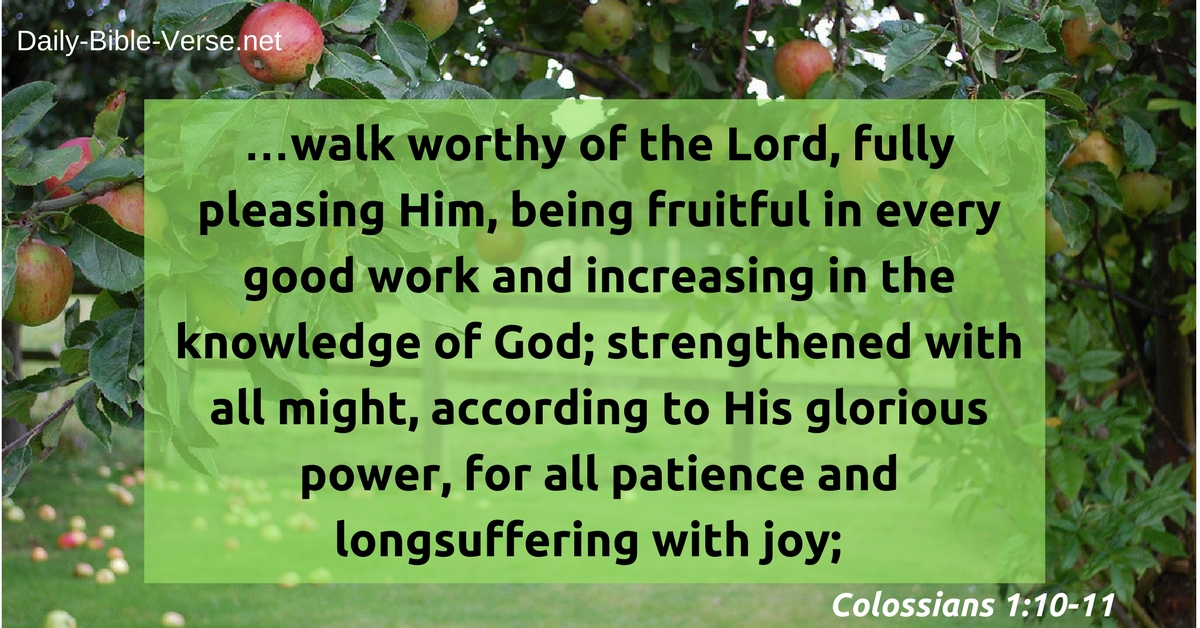 "Walk Worthy of the Lord"
That you might walk worthy of the Lord unto all pleasing, being fruitful in every good work, and increasing in the knowledge of God.   Colossians 1:10
Who do you try to please? Do you spend your time bowing down to men or to God? Its futile when we try to please men, for sooner or later we will disagree with them, and then our effort to conform to their desires is severed.
Men change, but God never changes. Men are not always the same, each time you approach them, but our God is. Men are inconsistent, but God is always consistent. Attempting to please men is unfruitful, but pleasing God is always a fruit-producing action, and always a good and worthy work and cause. And pleasing God increases our knowledge of Him, for when we are not static in listening to Him thru our personal study of the Word of God, we grow closer to Him and faith is increased.
I pray you set out to please God today. I pray you will bow before His altar, and seek His grace, mercy, forgiveness, and His will for your life. And I pray you understand that pleasing God is a task worth the effort, and it will not go without notice by Him.
Walk worthy of the LORD and produce lasting fruit that will endure throughout all eternity. In this, you will be truly blessed.
******************************************
P.S. (from bruce)  When there is no other place to turn…turn to God !!  If you're not a "born again" Christian, is the Holy Spirit urging you to open this link ??  Here is the truth about how God's grace is received to become a Christian in God's eyes; through understanding and obeying the gospel of our Lord Jesus Christ…   https://godsmanforever.com
To my brothers and sisters in Christ, please feel free to share this message of the cross with those in need…
You say you are a "born again" believer…  BUT is your soul "ON FIRE" for the Lord ??  If not, open this link – https://godsmanforever.com/2020/08/01/are-you-a-christian-in-gods-eyes-and-on-fire-for-the-lord-or-not/
Picture Credit: https://www.google.com/search?rlz=1C1SQJL_enUS832US832&sxsrf=AJOqlzUYG26reajRuMwDEbNoikeZmAR75g:1676033683137&q=image+Col+1:10&tbm=isch&source=univ&fir=4fnN14tMEO22jM%252CQSDUDURRuWtpFM%252C_%253Bqb8Dm8sJ7WWNSM%252COU_BaJ3vMvVWPM%252C_%253B1rpC-c8q07SJ3M%252CqOlTmql5rVL-WM%252C_%253BrKOl2EGd0GKZhM%252C7SFs1jUNop4XZM%252C_%253B86FQLLwRYMh-VM%252CuxyjxyI_1gft4M%252C_%253BPfKj_F9Un9ZfjM%252CTj9bE-uvFLrrOM%252C_%253Bjg2g3aAzKXamlM%252CSMG55xq7ndd3SM%252C_%253BLOvfIwgrJJ3efM%252CuA-zpXpXT98_IM%252C_%253BVTwg2gIthjrw8M%252CqTXklC2dksbz-M%252C_%253Bujqme6OCjnkwuM%252CJ9PDE8PP8vHU_M%252C_%253BqB9-pEA5JBuzmM%252CaQuOB-ZPVy5XbM%252C_%253BLb5tP0dY_Qz71M%252CHNu_NnZP0R4FvM%252C_%253B5_iHKxGkeFkILM%252CbMNrwv2okwFoqM%252C_%253BJXHA6P3hIc04tM%252C3uz2KGl4W-wbUM%252C_%253BzP3OcVGEuffr_M%252CBEgwmHg2SucHAM%252C_%253BJsVKjXalvlGlvM%252CVJVttGj6TTAd6M%252C_&usg=AI4_-kS1jS7aq0TAz9xAmlqqQz2TExGb4w&sa=X&ved=2ahUKEwiglsKCgIv9AhUvhIkEHWmhCX4Q7Al6BAgLEEc&biw=1319&bih=930&dpr=1#imgrc=3mSm-oo9yFY79M