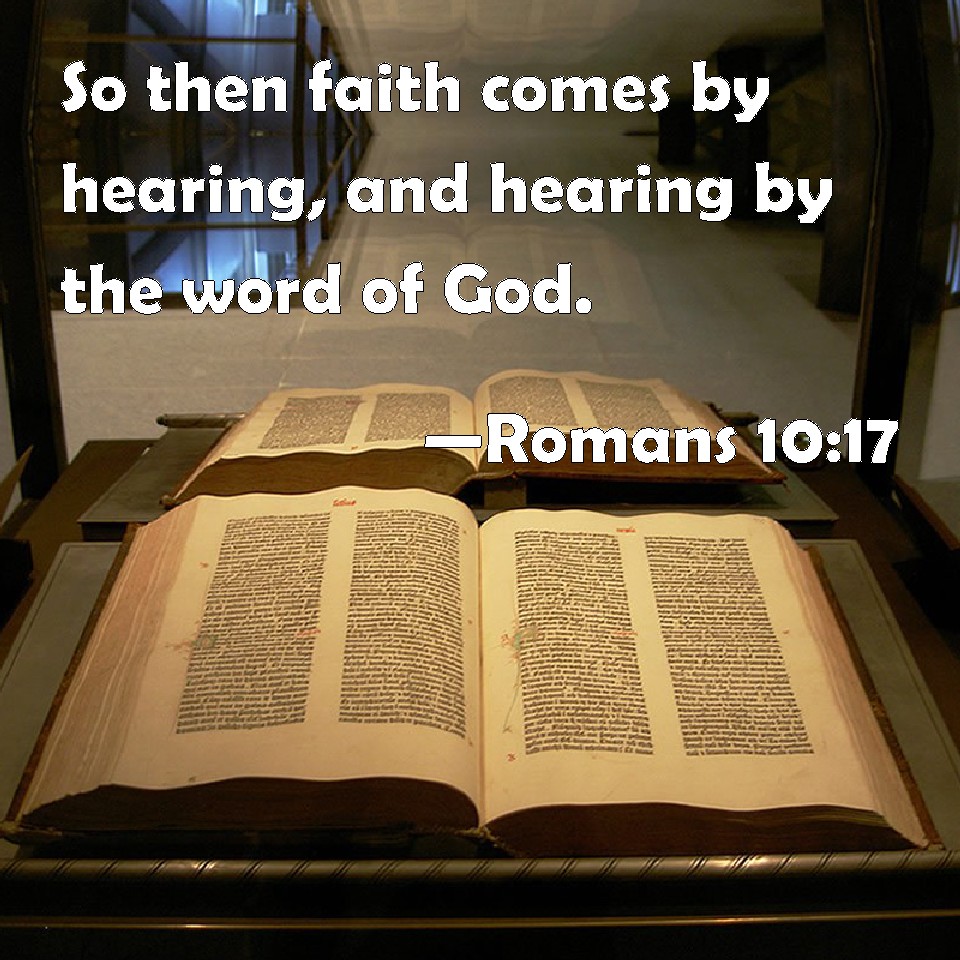 "Faith comes by hearing the Word of God"
So then faith cometh by hearing, and hearing by the word of God. Romans 10:17
Last Sunday morning Jimmie and I heard a man proclaim truth from the word of God. It was worth listening to and brought us closer to God.
Preachers who proclaim the word of God are worth hearing because we are not really hearing them, but what the Person of the Holy Spirit of God has laid on their hearts and directed them to say.
The Bible is the Word of God. It is absolute truth and has absolute authority in our lives. You will never have faith in God until you have the opportunity to hear the Word of God. This morning, I am thanking God for giving us the Bible. Our forefathers needed it, and you and I need it today.
*******************************************
P.S. (from bruce)  When there is no other place to turn…turn to God !!  If you're not a "born again" Christian, is the Holy Spirit urging you to open this link ??  Here is the truth about how God's grace is received to become a Christian in God's eyes; through understanding and obeying the gospel of our Lord Jesus Christ…   https://godsmanforever.com
To my brothers and sisters in Christ, please feel free to share this message of the cross with those in need…
You say you are a "born again" believer…  BUT is your soul "ON FIRE" for the Lord ??  If not, open this link – https://godsmanforever.com/2020/08/01/are-you-a-christian-in-gods-eyes-and-on-fire-for-the-lord-or-not/
Picture Credit: https://www.google.com/search?rlz=1C1SQJL_enUS832US832&sxsrf=AJOqlzWqxvYph-PmD6apqHJ8pE7rfuDxuA:1678881729008&q=image+rom+10:17&tbm=isch&source=univ&fir=Yd5T7PldHu3UgM%252CdhgnBs2yTj_TkM%252C_%253BuCO_0AK1mXCdNM%252C6Lr0ijxss3-SIM%252C_%253BpjXul–aFJWyrM%252CH0ml-UO_-wMDDM%252C_%253B96sdprO8c1cr5M%252CbsWRcw_m0KUh9M%252C_%253BLqPdZ21TPQuinM%252CvO_9McYoPqe4UM%252C_%253B_m8CM-QVnMWFjM%252CvZPtzDrLjxjkjM%252C_%253BgAbq9EItEYA4XM%252CmVH6cR-Kj3_y1M%252C_%253BzlsotnLvLCO5IM%252C14tn75y3OI0VXM%252C_%253BrealFgGHI6wr2M%252CZd2MS9nD497SiM%252C_%253BTDQuwnvR6NTw8M%252CkCLtCmHCuEOlqM%252C_&usg=AI4_-kRxM1cTQPvk9Cb7Xo01NYjqnxLd0A&sa=X&ved=2ahUKEwif9s7o8d39AhXBE1kFHXAsA3sQ7Al6BAgGEEY&biw=1484&bih=898&dpr=1#imgrc=LqPdZ21TPQuinM