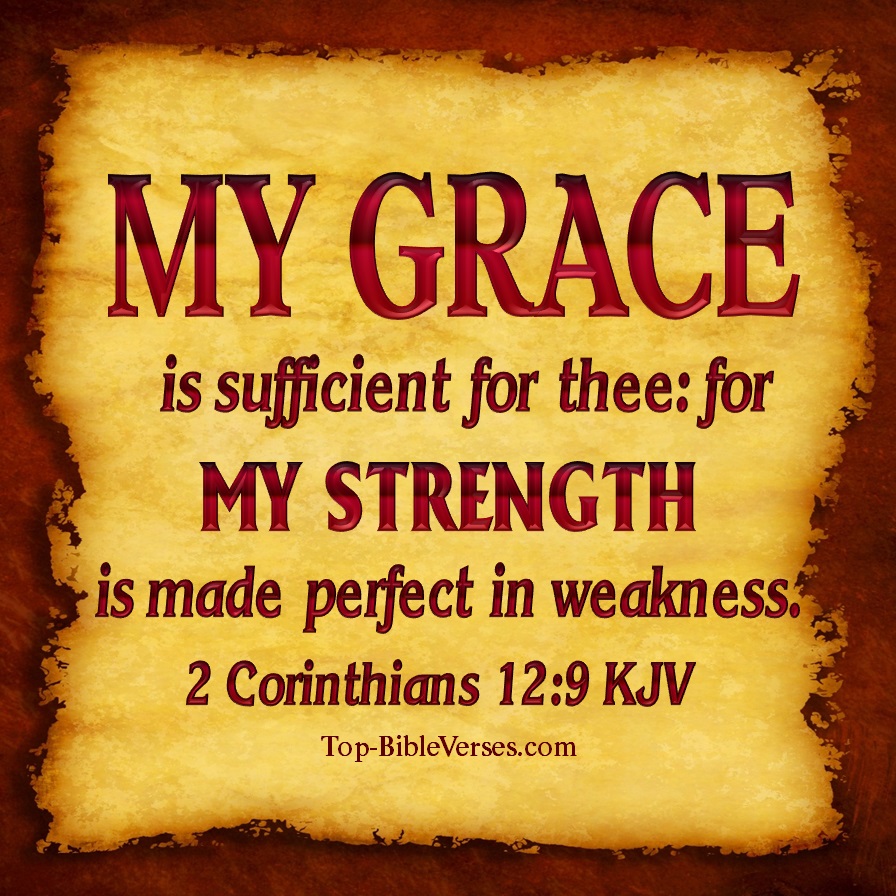 God's Power is Perfect
12 Corinthians 12:9-10   But he said to me, "My grace is sufficient for you, for my power is made perfect in weakness." Therefore I will boast all the more gladly about my weaknesses, so that Christ's power may rest on me. That is why, for Christ's sake, I delight in weaknesses, in insults, in hardships, in persecutions, in difficulties. For when I am weak, then I am strong.
These were my mom, Belle's, favorite two verses in the Bible. She has it engraved on the cover of one of her Bibles.
We can be strong, because of the grace that is given to us through Christ. When we are weak, He is strong. His strength and power never run out.
My dear mom, went home to be with our Lord and Savior, Jesus, on the morning of January 21st. Of course, I miss her and find it hard to believe she is no longer here with us. However, I am thankful for the life she lived and the love she gave to me, my family, and countless others.
Mom was ill for a while, so I am also thankful she is no longer suffering. I can't imagine the bliss she is now experiencing, being in God's presence for all eternity, with a new glorified body. She loved trees, so I thought of her when I chose this picture…
Photo by: Felix Mittermeier of Germany
God's grace is sufficient. That is a truth that my mom lived each day and I am thankful that through Christ, we can continue to live in that truth too. Weaknesses, insults, hardships, persecutions, and difficulties, do not change who He is. His power is perfect. We are secure in His love.
We are busy planning my mom's memorial service, plus I am still processing the reality of losing her, it's very difficult. So, I may not post every Monday for a while, but I will still be checking in, reading, and commenting, from time to time.
I ask for your prayers during this time. May God continue to direct your path as you trust Him, and as always, thank you for your love, support, and prayers. Blessings.
*************************************
P.S. (from bruce)  When there is no other place to turn…turn to God !!  If you're not a "born again" Christian, is the Holy Spirit urging you to open this link ??  Here is the truth about how God's grace is received to become a Christian in God's eyes; through understanding and obeying the gospel of our Lord Jesus Christ…   https://godsmanforever.com
To my brothers and sisters in Christ, please feel free to share this message of the cross with those in need…
You say you are a "born again" believer…  BUT is your soul "ON FIRE" for the Lord ??  If not, open this link – https://godsmanforever.com/2020/08/01/are-you-a-christian-in-gods-eyes-and-on-fire-for-the-lord-or-not/
Picture Credit: https://www.google.com/search?rlz=1C1SLLM_enUS1047US1047&sxsrf=APwXEdf3AnWuPeX8kdDwMWIqmbP6u-SpoA:1679887457458&q=image+2+cor+12:9&tbm=isch&source=univ&fir=9LKRq3zbT8hXCM%252CVaf798UzusDQoM%252C_%253Bhgm3cmJba2Q5RM%252CPNy8zi0lgRItJM%252C_%253BW4BiE0OsYkUZeM%252CezT2fd7ZqYn7GM%252C_%253B9ItNaQQgVdnpGM%252CGNyMnEpAB4TYhM%252C_%253B8IaSh9QW65pcjM%252CywzGhr7xCDi6QM%252C_%253BNKFa0ypJqYTsvM%252C3z-3gT1b-S6tyM%252C_%253B1ivPPLnc3Vl8kM%252CpO14zwJhnx1AXM%252C_%253B_1FK-d86ZgkNmM%252Cf7wdykjN98PceM%252C_%253BzkogeQXZfAaW7M%252CezT2fd7ZqYn7GM%252C_%253B9mbIKZ5G8yBSKM%252CxoaKt2yU5WDExM%252C_%253BNts4eHxz6A2b3M%252CPpxpDDEeFuFxbM%252C_%253B1bDcuYtRVFvXAM%252CRyePaEIXzSRGfM%252C_%253B9g1URIcykze3TM%252CMf1YShkMfIMNOM%252C_%253ByurlwBCDnUij4M%252Cmp99itdAJ_AWpM%252C_%253BQNFT3YcM1qJDoM%252CT5wz-6f-640xFM%252C_&usg=AI4_-kQOdllRuELdfOo-AE-UQIMYNbcGNQ&sa=X&ved=2ahUKEwiQ_Ke5lPv9AhXkFlkFHV81DP0Q7Al6BAgbEEM&biw=906&bih=482&dpr=1.25#imgrc=9ItNaQQgVdnpGM