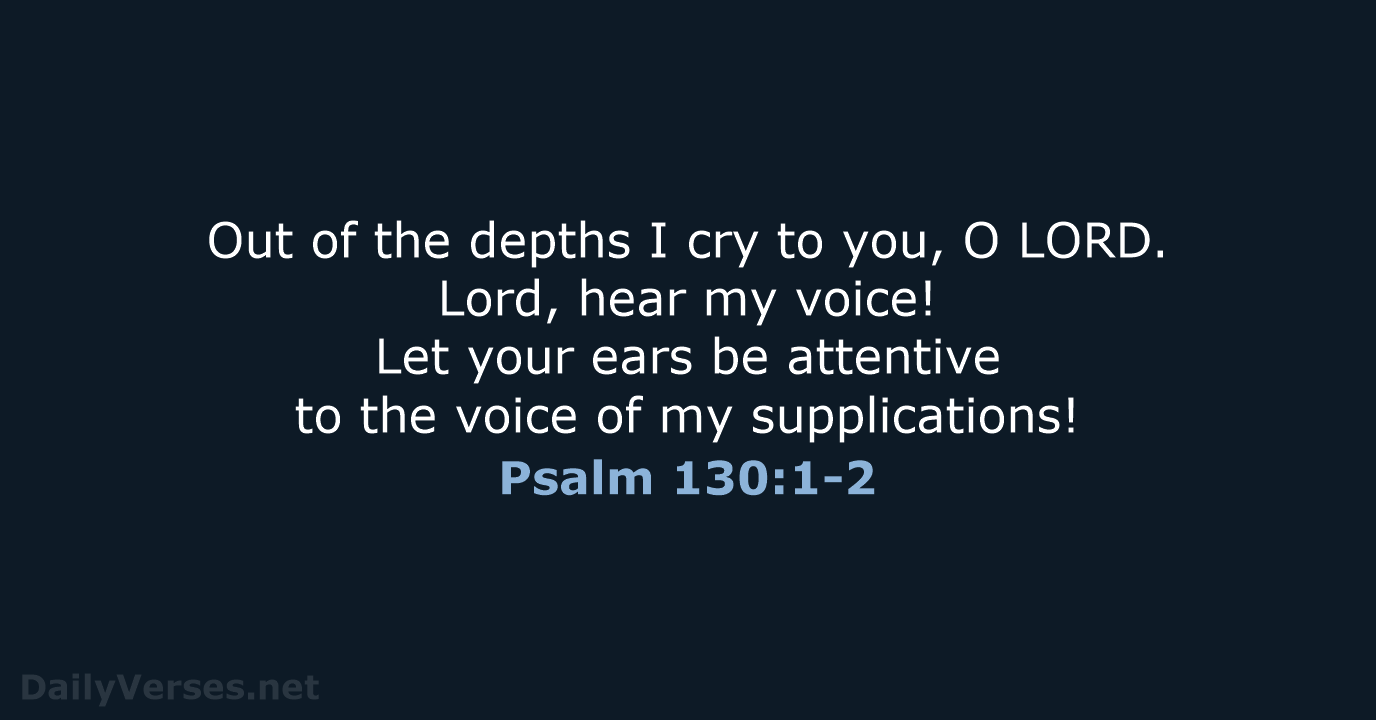 My Cry for Mercy
Tags David, God's mercy, mercy, Prayer, Psalms
Reading: Psalm 143:1-6
A psalm of David.

LORD, hear my prayer,
listen to my cry for mercy;
in your faithfulness and righteousness come to my relief.
Do not bring your servant into judgment,
for no one living is righteous before you.
The enemy pursues me,
he crushes me to the ground;
he makes me dwell in the darkness like those long dead.
So my spirit grows faint within me;
my heart within me is dismayed.
I remember the days of long ago;
I meditate on all your works
and consider what your hands have done.
I spread out my hands to you;
I thirst for you like a parched land (NIV). *
Photo by David Kitz
Reflection
On my best day, I need God's mercy. On my worst day, my need for outside help and mercy are visible to all. In truth, my need for the mercy of the LORD is never-ending. All too often, we only call out to God in times of need or perceived difficulty. In reality, our need for God's help and mercy is constant.
Here in Psalm 143, as he so often does, David calls out for God's mercy. In many respects, David's plea for mercy is rather repetitive throughout the psalms. Why would this be? Could it be that he is in constant need of God's sustaining support and mercy? From the following request, we can see why David repeatedly prays for God's mercy: Do not bring your servant into judgment, for no one living is righteous before you.
David recognized that within himself he had no righteousness. This is the starting point for a life-transforming relationship with God. Contrary to a good deal of modern psychology and religious philosophy, we are not okay. We have a warped nature that is inclined to sin. It delights in rebelling against God. St. Paul describes this human condition with these words. For I know that good itself does not dwell in me, that is, in my sinful nature. For I have the desire to do what is good, but I cannot carry it out (Romans 7:18).
The prophet Isaiah described this universal human condition in this way. All of us have become like one who is unclean, and all our righteous acts are like filthy rags; we all shrivel up like a leaf, and like the wind our sins sweep us away (Isaiah 64:6).
Do I need God's mercy? Yes, a thousand times yes!
Response: LORD God, I need your righteousness. My own righteousness is tainted with pride. I freely acknowledge my need for a Savior. You are my constant help.  I thirst for you like a parched land. Amen.
Your Turn: Are you aware of your constant need for God's mercy? Are you calling out to Him?
* NEW INTERNATIONAL VERSION, COPYRIGHT ©1973, 1978, 1984, 2011 BY BIBLICA
********************************************
P.S. (from bruce)  When there is no other place to turn…turn to God !!  If you're not a "born again" Christian, is the Holy Spirit urging you to open this link ??  Here is the truth about how God's grace is received to become a Christian in God's eyes; through understanding and obeying the gospel of our Lord Jesus Christ…   https://godsmanforever.com
To my brothers and sisters in Christ, please feel free to share this message of the cross with those in need…
You say you are a "born again" believer…  BUT is your soul "ON FIRE" for the Lord ??  If not, open this link – https://godsmanforever.com/2020/08/01/are-you-a-christian-in-gods-eyes-and-on-fire-for-the-lord-or-not/
Picture Credit: https://www.google.com/search?rlz=1C1SQJL_enUS832US832&sxsrf=APwXEdd6KRSELOD_8-2q63Djhb8IluQvkQ:1684373024617&q=image+ps+130:1-2&tbm=isch&source=univ&fir=6y4mfdCxSy9XzM%252CmOghw3bwEpLcSM%252C_%253B7QCiQwyY2VGbiM%252CB_2F51hdmIdDwM%252C_%253BtNwNmvu6NS520M%252CRpvzVOnVto_rlM%252C_%253BnD6QPKe2d1Xd4M%252CdU54mLEdY-3eJM%252C_%253BOc-ievom01uzyM%252CdK4E_scQNAmCSM%252C_%253B_4amxOi55dNVKM%252CvoBxyalVMUtWVM%252C_%253BI94HluzJT_uGeM%252CMgCPFjs-vVI6eM%252C_%253B_u2RaY4rlxF3vM%252CDpWA7ld_HXXFcM%252C_%253Bc0YKnGcHc79sYM%252CKxB4gf8KF8C6WM%252C_%253BAYdTGh_d8t6-nM%252Cm1jloLGLhftLiM%252C_&usg=AI4_-kRWv8LSjuzYugquAXQTsjw7PGGN5w&sa=X&ved=2ahUKEwjyrbS-2v3-AhV_FFkFHSgcBiIQ7Al6BAgXEEo&biw=1304&bih=898&dpr=1#imgrc=_4amxOi55dNVKM