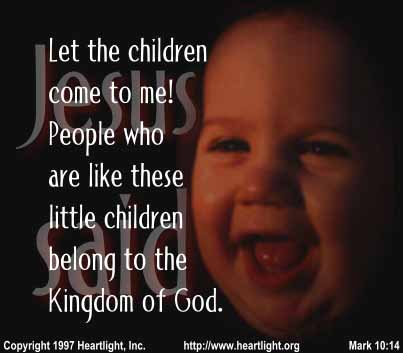 "Come to Christ as a little child"
But when Jesus saw it, He was much displeased, and said unto them, Suffer the little children to come unto me, and forbid them not: for of such is the kingdom of God.
Mark 10:14
The disciples had just "rebuked" those who had brought their small children to Christ. This didn't displease Jesus a little, but very much. Sometimes we get things backward. We think that our children must "grow up" before they can come to Christ. But the Bible teaches that all of us must come to Christ as a little child. It is amazing for me to watch how the Person of God's Holy Spirit can work in and thru a little child. God can and does use children to testify of Himself.
Take your children and grandchildren to a place where they hear the gospel preached, and when they respond, don't hold them back but help them up.
My prayer for all children is this: That they will come to Christ in personal faith in Him at the earliest possible age of their lives. I'm counting on God to answer this prayer. Until they reach the age of accountability, whatever that age may be for each individual child, they are safe in the arms of Christ, just like these children in Mark 10 were. For this and much, much more, I give God glory and thanks this morning.
********************************************************
P.S. (from bruce)  When there is no other place to turn…turn to God !!  If you're not a "born again" Christian, is the Holy Spirit urging you to open this link ??  Here is the truth about how God's grace is received to become a Christian in God's eyes; through understanding and obeying the gospel of our Lord Jesus Christ…   https://godsmanforever.com
To my brothers and sisters in Christ, please feel free to share this message of the cross with those in need…
Picture credit:  https://www.google.com/search?rlz=1C1SQJL_enUS832US832&sxsrf=ALiCzsasvW62FmcZB10Kau3uEE28bvZLJw:1653742938567&source=univ&tbm=isch&q=image+Mark+10:14,&fir=DJmWVdSnfEkzIM%252C1hxHZHT-5YsBDM%252C_%253BEU_zFwYtvi1bWM%252C0tr3hml2_1CyeM%252C_%253BDZb2EqGJd3IsfM%252C1hxHZHT-5YsBDM%252C_%253B-u3JBqAXa-v5FM%252CiGrHkAKfR64LyM%252C_%253BdRKtHnYsfCDTAM%252CdoG3nrTo7G6YmM%252C_%253BuKaSULhJdGzn0M%252C1hxHZHT-5YsBDM%252C_%253B7SldQaDvmOWJYM%252C0tr3hml2_1CyeM%252C_%253BRWPr7hC2J1SYbM%252CH6NJLfcE3F581M%252C_%253B-6iQdOd7UKPdBM%252CdoG3nrTo7G6YmM%252C_%253BIbUpl4NLoJEq-M%252C1hxHZHT-5YsBDM%252C_%253BsLtX5gi5MD3e2M%252ChjyWnpjWgo0L-M%252C_%253B0WS_jD7CxYmUoM%252Cjxd3tVS3yMJl1M%252C_%253BX7XHq7I9Xdl2-M%252CdoG3nrTo7G6YmM%252C_%253BGXG2L0FqmRJ2JM%252CmVQj5X5sqpxvQM%252C_%253BaBJgngXH8on-wM%252CyZsSGj5NWzq_9M%252C_%253Bi0siHAQQzktiDM%252CRb69181_Cis-PM%252C_%253BAW-zRp-QJt8KZM%252Cbogh929kivar7M%252C_%253BnbVy4pNL782S0M%252ClYM6g6E_mv6VwM%252C_&usg=AI4_-kSZ2yOZ41iJN8JuhwzOwkIBpOULjg&sa=X&ved=2ahUKEwi8u5zDoIL4AhWWRjABHWRIBgkQ7Al6BAgCED4&biw=1319&bih=820&dpr=1#imgrc=-u3JBqAXa-v5FM